700+ DVSA Revision Questions

Free
Practice Tests

Hazard Perception Test
Included

Unlimited
Mock Tests

100%
Pass Guarantee

Progress Tracker
& Results
Free Mock Tests
Access the ultimate free UK theory practice tests online. Our free tests give you the right foundation to prepare and pass your Drivers Theory Test.
Premium Content
Upgrade for access to premium test questions. You get more tests and a wider range of questions to pass the 1st hurdle on your way to your DVSA test.
Unlimited Retests
Review your answers during and at the end of each test. See the areas you need to improve. Then take the tests as often as you need to get ready.
Compatible Across Devices
Practice anywhere on the go or at home. Our theory mock tests can be accessed on your smartphone, tablet, desktop - wherever you're comfortable.
The Smarter Learning Tools

Smart Dashboard
Our well-designed and easy-to-understand dashboard gives you instant access for all your performance statistics. The smart dashboard is ideal for keeping track of your progress through the practice tests and being able to access all the tests quickly.

Performance Analysis Report
View your performance statistics from your smart dashboard. It will help you to identify your weak and strong areas, what you need to practice more of, and anything you might have missed. Compare current and past practice results to see your progress.

Challenge Bank
The Challenge Bank helps you keep track of all your missed questions. The questions you answered incorrectly will be placed in the Challenge Bank automatically. Then you can return and practice just those questions until you can answer them correctly.
Learn The Faster Way
Interactive learning
It's harder to study a driving test just by reading the book. Interactive learning is the engaging, hands-on approach that strengthens your skills and helps you retain more. It promotes rapid learning and makes it easier for you to study at a faster pace.
Progress Reports
Your mock tests are scored just like the real theory test. So, you get to follow along to the same structure and keep track of your progress as you practice. Plus, your smart dashboard enables you to track your improvements with all your mock tests.
On-the-go Learning
We mean learn anywhere when you sign up for Driving Theory Test. Our platform is accessible anywhere and on any smart device. So, you can practice our free tests or your premium content anytime and whenever you have time to do a practice session.
Want to pass your UK theory test ... without worrying about what questions are on the test, how to respond, and what to expect?
It's funny how persons just like you are passing their tests on the first try, yet so many people fail continuously. So, who would you rather be? Someone who uses the right resources and passes the test? Or are you planning to wing it and hope for the best?
We suggest you forget about winging it unless you're OK with wasting time and money. Instead, take the easier route to UK Theory Test success. Get ready and easily pass when you prepare with Driving Theory Test.
---
Before you book your theory test, practice with the ultimate FREE and premium Driving Theory Test questions designed to help you practice, learn, and pass.
From Provisional to Full Licence the Easy Way
Driving Theory Test provides all you need to move from provisional licence to full driving licence in no time. You get access to:
The most current DVSA theory test revision questions
Questions based on the type of vehicle you want to drive (car, lorry, bus, and motorcycle)
High-quality hazard perception test practice videos
Traffic sign tests for the over 150 types of traffic signs
UK-Specific Questions
You have more options to study for the drivers knowledge test online than simply reading the manual. And they're also more effective study tools than the manual.
UK-Specific Questions
The UK has specific driving requirements. Our mock theory tests, therefore, follow the UK Highway Code to ensure you not only are getting relevant questions, but that those questions are updated when the DVSA updates the Code.
Study by categories
We've made it easier for you to study by categorizing the tests according to the topics you are most likely to be tested on. You can keep organized, study by topic, and be better able to assess how ready you are for the big test.
Practice 700+ study questions
Yes, you read that right. 700+ study questions because you can be tested on any aspect of the Highway Code, road safety, and vehicle rules. We want you to have the best chance of passing your theory test on your first try.
Unlimited attempts
Because there are so many elements of the theory test that you need to know, we have given you as many chances to practice to help you pass. So, you get unlimited attempts at each category and driver theory practice questions.
Is DTT Right for you?
Well, let's see. Do you want to ...
It matters that the test questions are just like the real thing. This means there are no surprises in the test, and you stand a better chance of passing. Plus, the Driving Theory Test questions are based on the UK's driving regulations, so you know it's just what you need. And they are kept up to date too.
It's not always a convenient time to practice for the UK theory test. But what if you could practise while you're riding the tube, taking an uber, waiting at the doc, relaxing at home or eating out? You can easily access our practice tests online anytime, anywhere. So, practice the test on your desktop, laptop, tablet or smartphone. You now have no excuse not to get ready for the test the right way.
Driving Theory Test offers engaging and fun ways to practice for the theory test. Our hazard perception test videos and other animated videos give you an interactive learning experience that makes for faster study and prep for the test.
Getting a driver's licence doesn't have to be that challenging. And it can be that for a lot of us. But it certainly helps when you can get the right kind of support to ensure you get excellent results. Once you put in the work here, keep practising, and study the questions, you're sure to get better results. So, improve your chances of acing your UK theory test on your first go.
In no time you'll be celebrating success. You'll know the rules and regulations of the road so you can take on the streets safely. You'll learn things that are important if you plan to learn how to drive. This is where you get the boost that's only available from a quality theory practice test.
PLUS, there is even more you can do with Driving Theory Test
Save time and cash
No one wants to waste time and to keep paying for something over and over again when they could do it in one go. These practice tests ensure your time is spent wisely in studying the right types of questions so you can sit and pass with ease.
Increase your confidence
Going into the test without fear makes a lot of difference in your outcome. And the only way to get rid of that fear is to be prepared. Take your confidence to the next level and step into that test knowing you'll be exiting with a pass.
Get unmatched value
You'll be blown away with the quality of our free tests. But our paid practice tests? These get you closer to your end goal much faster. Enjoy value for money with one of the most affordable paid UK theory practice tests online.
If this all sounds like what you're looking for when you're ready to take on the UK Theory Test
then you're in the right place. Driving Theory Test is the right resource for you to pass your driver knowledge test on the first try.
Why Upgrade to Premium?
What would you do if you were to get access right now to what is probably the best theory test practice online? Where you know that the test questions are up to date? That you're being given the best chance of passing the UK theory test on your first go? Where the costs to do so makes more sense than just attempting random free quizzes?
Get access now to full test simulation questions and over 700+ questions from the DVSA revision question bank.
Upgrade to Premium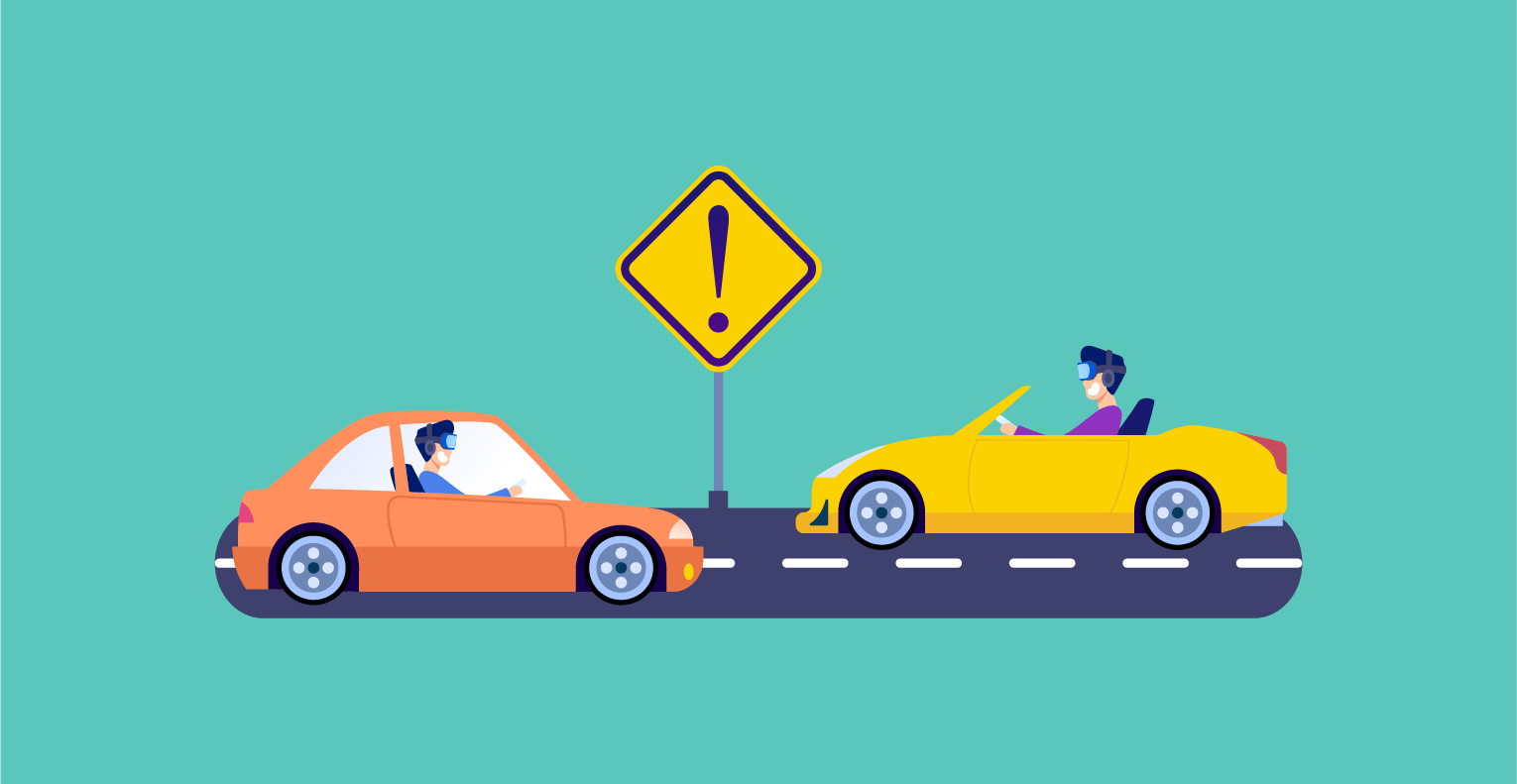 What is Driving Theory Test?
This is a platform for proven and tested, in-depth practice training quizzes designed to help you prepare to pass the UK theory test.
Practice theory test questions that are just like the real DVSA theory test
See where your shortfalls are and whether you're prepared enough to pass
Practice the difficult questions as often as you want until you can take them under test conditions
Get increased practice support when you upgrade to the paid practice questions
And get yourself ready to take on the test like the pro you know you are
But more than that, the Driving Theory Test platform gives you the confidence you need to take the driving theory test so you can ...
YES, THE DTT IS THAT GOOD
---
It doesn't matter if you don't have the computer skills, you never read the highway code manual, or you failed your first (or more) test.
The DTT is designed to help all persons - no matter where you are on your study/test prep journey - to start practising the quizzes.
Get Ready to Pass the 2023 DVSA Driving Theory Test
What does the best website to practise the theory test look like? What can you expect when you want the best tools, resources, and guarantees for passing the UK Theory Test? This is what it looks like.
Like the real test
So much like the actual test, you might think it's the real thing. Because our questions are drawn from the Highway Code, you get the same type of questions, delivered in the same structure as the DVSA driving test. Practice questions for the multiple-choice test and the hazard perception test.
Free Tests
Test out the waters with our free tests. Then, when you're ready to get even more serious, upgrade to premium test content. We've seen people get great results just from the free theory tests alone. So, imagine what you could do with the premium test content from Driving Theory Test.
Instant Results
Know exactly which questions you get right or wrong and why. Then you know which areas you need to improve to get ready for the test. Is it remembering what the road signs mean? Or how to respond to a hazard? Improve those areas you know you're not as strong in.
Faster Prep Time
Get ready faster the Driving Theory Test way. Learn as you practice and shorten your preparation time to sit the test. Use all the resources and tools at your fingertips anywhere. Access quality revision tests online, and learn all the tips and tricks to prepare the right way for a pass.
Learn At Your Own Pace. How the DTT practice theory test works.
Here's how to make sure you're ready for the theory test.

1. Read the Highway Code manual
Start learning the rules and regulations of the road. You can access the Highway Code manual online in PDF so you can take it anywhere with you.

2. Practise the Tests
The Highway Code all makes sense when you start the practice tests. And you may also see how little of the manual you retained. Take our mock theory tests that cover all sections of the Highway Code. Use the theory test simulator which generates new questions each time you take a test.

3. Retake the Complex Questions
Get highly targeted with your study prep. Focus on your weak areas and retake the difficult questions until you can answer them correctly every time. Come back to these questions and sections as often as you need to get ready.

4. Pass Your Test
Now it's time to put all your preparation to work for you. So, getting 100% in your mock tests? Aced the simulator tests? Then it's time to take on the real deal. Make an appointment with your local DVSA testing centre, sit and pass the test.
So, how ready are you to pass the official driving theory test?
Can you sit the less than 1-hour test, with 50 multiple choice questions and get 43 questions correct? Think you can get 44 points out of 75 on a hazard perception test? Can you do it all without any practice or even knowing what to expect on the test?
But the UK government website has practice questions. That's all you need, right?
We don't think so, and neither should you.
Not when you can access even more practice questions online. Questions so close to the real deal that on test day you feel like you've seen the test questions already?
Driving Theory Test is the efficient way to prepare to pass your UK theory test. We take the best of both worlds - practical study questions and a gamified approach - to make it easier for you to get ready for the test.
That's why you need to study online with our revision tests. Our practice tests:
Cover the same topics you will be tested on in the driver theory test
Give you similar questions to what's on the official theory test
Give you practical questions based on the Highway Code manual for accuracy and relevance,
Use a similar scoring system to the Driver and Vehicle Standards Agency (DVSA) as part of simulating a test environment
Take our UK driving theory revision tests. Practice topics separately and in chunks online or offline on the go. Learn as you practice at your own pace.
Preparing for the UK Theory Test
Take a sneak peek into what awaits you when you sign-up for practice tests with Easy Theory Test. Depending on the type of vehicle you plan to drive, then the test will differ. Here's a quick description of each type of test and what to expect.
Do you know what to do if you're driving in traffic – at the speed limit – and the driver behind you is trying to overtake you? Would you be able to pick out which response is the correct one to this question on a multiple-choice test? Even after reading the Highway Code Manual?
The car theory test is a computerised test that assesses your knowledge of the Highway Code and rules for driving on the road.
Want to find out if you could answer these questions and more on the road rules theory test? Try Easy Theory Test and practice all our DVSA car theory test practice questions online.
The Hazard Perception Test (HPT) is one of the more challenging areas of the theory test. This test trips up many first-time testers because they did not know what to expect. They were not expecting to see video clips and being asked to respond. Or how being a second too late or too early in your response can cause accidents.
But, they make up for that first time failure by practising our free hazard perception test online. If you want to pass, you too should be practicing the HPT online. The HPT requires you to react in real-time based on scenarios presented. So, let's make sure that you're ready to tackle the hazards on the road – and in the test.
Practice with CGI revision videos licensed by the DVSA
Access the tests on all your devices
Track your progress through questions and explanations as you go
Can you pick out and respond to hazards that particularly impact a motorcycle rider under test conditions? Want to know if you can? Try our free and premium motorcycle practice tests.
The DVSA motorcycle theory test has 50 multiple-choice questions plus 14 hazard perception videos. With our online practice questions, you will be better prepared to take on these questions and pass the motorcycle theory test.
Practise for the Bus Theory Test online. Our hundreds of official DVSA revision questions help you get on track to passing your theory test and on your way to a new career. This includes bus hazard perception tests questions.
Open the way to a career in transportation when you pass the LGV theory test. The Large Goods Vehicle (LGV) theory test (same as the Heavy Goods Vehicle – HGV – test) requires a C, C1 and C1+E class licences. So, start practising and move on to comprehensive training and see a whole new world of possibilities open up for you.
Want to become an approved driving instructor (ADI) and help others to earn their road licence? Practice the ADI theory test online and make it a reality. See the types of questions a prospective ADI would get and whether you're ready to become an instructor yourself.
Do you really know what the information and regulatory roads signs ask of you? Do you fully understand the motorway road signs? If not, no need to worry. Learn how to interpret:
Signs giving orders
Warning signs
Direction signs
Information signs
Road works signs
Not all these signs are in The Highway Code. But you can learn about more of them through our practice tests. (You can also download a PDF of the over 170 Highway Code Traffic Signs here.) Each test category (like cars, bikes, PCV) has its own road signs practice questions.
So, know your traffic signs. While you're going through your PDF, take a quick practice test to see how many you remember. And to see if you're ready for the highway code signs test.
Frequently Asked Questions
FAQs – UK Theory Test
The theory test comprises of two parts – the multiple-choice section, and the hazard perception test. You must pass both sections to get your theory test pass certificate. You'll use this test certificate number to book your practical test when you're ready to apply for the full licence.
The multiple-choice section of the test differs based on the vehicle category, e.g. car, heavy vehicle, bus, motorcycle. All categories also take the same hazard perception test, but the number of questions differs based on the vehicle category. So, the tests differ for:
Car theory test
HGV theory test
Motorcycle theory test
LGV theory test
ADI theory test
The test is in two parts. The first is the multiple-choice section, followed by the hazard perception test (HPT). The number and types of questions you get will depend on the type of vehicle you're testing for (e.g. lorry, bus, car, motorcycle).
If you're testing for a car or motorcycle, you will be given 45 randomly generated multiple-choice questions and 5 case study type questions to answer in 57 minutes. The pass mark 43 of the 50.
The test for lorries and buses has 100 questions, and you're given 1 hour and 55 minutes to answer them. You will need to get at least 85 out of 100 right to pass.
For the HPT, the pass mark is 44 out of 75 for the car and motorcycle category. For buses and lorries, the hazard perception test pass mark is 67 out of 100.
You can apply the next day for a re-sit. But you will need to wait at least three (3) clear working days before you can retake the test.
The test covers 12 topics, some of which we highlight below.
Road/Driver Attitudes: Testing your knowledge of how to respond to other road users, following distances, pelican crossings, headlights and more.
Documents: How much do you know about registration and insurance requirements for your vehicle? Licences, MOT certs and SORN fines?
Road Traffic Signs: For the road signs test portion of the DVSA driving test, there are over 150 different road traffic signs and you never know which ones will make it to your test.
Alcohol, Drugs, Fatigue: Test your knowledge on the effects of alcohol, drugs and fatigue while driving.
Eco and Environmental Knowledge: As we move to more eco-friendly vehicles, you will be tested on your knowledge of eco and environmental aspects of vehicles.
Theory test booking can be made in 2 ways – online or by post. You can book the driving theory test online directly with the DVSA. Or, get a form from a local Post Office, fill it out, submit it with the relevant documents to DVSA Swansea.
When you sign up for the test date, you'll be given an option to choose a designated DVSA theory test centre, which is often close to you.
You can sit the UK driving test at one of the more than 160 theory test centres across England, Scotland, Wales, and Northern Ireland. Some test centres are open on Saturdays, but most have test dates Mondays through Fridays, between 9:00 a.m. and 5:00 p.m.
You can search for a theory test centre close to you here by putting in your postcode.
Your theory test certificate lasts for two (2) years from the day you passed. If you haven't completed and passed the practical test for getting your full driving licence in that time, then you will need to take the UK driving theory test again.
As soon as you reach your 17th birthday, you can apply to sit the theory test. (You can apply for your provisional licence at age 15 years and nine months.)
The cost of the DVSA driving theory test is £23. The fee is subject to change as the government sees fit, so feel free to check the official GOV.UK website for any changes.
Theory test preparation starts by knowing what to study. Over 50% of persons who sit the official theory test fail, so you want to be sure that you're preparing the best way possible.
The Highway Code is a start. But, where you want a full in-depth preparation guide, sign up for an online theory test practice site with mock theory tests. The right site makes it easy to study, retain information, and prepare to pass the test either on your first try or if you failed it before.
But it's a simple process to ensure that you can pass the test:
Practice theory tests as often as you can
Use simulation tests to boost your chances
Practice hazard perception tests
Study the Highway Code and traffic signs
The Hazard Perception Test requires you to watch video clips to spot developing hazards and indicate how you would respond. There are two (2) pass marks for the HPT: 44 out of 75 for the car and motorcycle hazard perception part of the theory test; and 67 out of 100 for LGV and PCV drivers.
The best way to pass is to practice theory test before actually sitting it. You'll see what the clips look like and how your response time matters. The slower you are to respond, the lower your points. If you respond too fast, you won't get any points. Plus, the test is designed to prevent multiple clicks on each question, so you have only one (1) chance to get each question right. (Some may not even have a hazard situation in the video).
It's unlikely that you will pass the theory test without revising. So, it's important that you know how to study for the test. To get ready, start using an interactive online platform that is designed to help you pass.
Studying for the theory test involves:
First acknowledging that the test can draw on questions from a bank of over 700+
Practicing based on the categories in which these 700+ questions fall
Taking simulation tests and using your Challenge Bank for cataloguing difficult questions
Practicing the hazard perception test with authentic video clips
If you do not take the right things to your driver theory test, your test will be cancelled. You will not be reimbursed the money spent when you booked the theory test. What you should bring to the theory test includes your UK photocard driving licence. You can't bring any personal items into the test room, but locations should have a locker facility that you can use to store them.
Find out all you need to take to the theory test here.
The DVSA provides 3 primary resources that you can download and study for the test. These are:
If you mean how long the test is, then you have 57 minutes in which to answer 50 multiple-choice questions in Section 1. Section 2 of the test (Hazard Perception) has 14 videos with each being approximately 14 minutes in length.
If you want to know the validity period of your driver theory pass, then that's 2 years. If you don't take and pass the practical driving test within those 2 years, then you will have to re-sit the theory test.
The free practice tests must be UK-specific. Otherwise, you won't be studying rules that are set by the UK government. But also make sure that the free tests are valuable. There's no sense in studying old content which has been updated by the DVSA but not by the free test site.
You can do well with our free tests, but they are only just some of the potential questions. So, if you want more opportunities to study, access to more questions and Challenge Bank, then Premium is the way to go. When you upgrade to Premium, you give yourself more chances to succeed.
Articles
Our Best Articles To Read
The freedom of driving cannot be matched by any other mode of transportation. No longer do you have to wait at the bus stop. Or, find alternative methods the underground is close. But, before you can hit the road as a full-fledged driver, you must first pass the driver knowledge test. So…
What is the driving theory test?
The UK Driving Theory Test is a two-part theory test set by the Driver & Vehicle Standards Agency (DVSA). The DVSA is the UK government body that's responsible for driver education. (The DVSA is different from the Driver and Vehicle Licensing Agency (DVLA), which issues your Provisional Driving Licence and full drivers' licences.
What is on the theory test?
The theory test consists of:
1.Multiple-choice questions on the Highway Code, traffic signs,
2.Hazard Perception Test which is video-based and requires you to react to simulations of a potentially hazardous driving situation.
The test questions are determined by the type of vehicle test you select. So, while there will be general questions, there will also be questions specific to cars, motorcycles, or LGV if that's the specific type of test you went for.
So, how do you take the theory test?
The theory test is done on a computer at an official DVSA theory test centre, where you will do both parts of the test on the same day. You can book the test online.
But, before you book, we recommend that you spend some time practising the online theory test questions. The test has a 53% failure rate. You shouldn't want to be in that batch. So, find the right platform that makes it easy for you to prepare for the test.
Why where you practice matters
Where you practice your tests matters. For example, some websites may not have up-to-date test questions. This means their question bank isn't updated as often as the DVSA does theirs. So, you'll want to be very careful about where you spend your time, energy, and money practising the theory test questions.
The layout and structure of the UK theory tests are determined by the type of tests that you will be doing. But they all have two parts: a multiple-choice section; and the hazard perception test. You sit both as one test, and you must pass both sections to be successful at the theory test.
The practice theory test mimics the layout and format of the real test. The design ensures that persons who are going to sit the test aren't surprised by the questions and structure of the test.
Choosing the Online Practice Test Platform
Here are some of the things to look out for when you're looking at online practice questions.
Do they offer free and premium content: Free content can get you ready, but you have a better chance of passing with premium content. If the online platform requires you to pay to even see the content, then perhaps move on.
Can you study based on categories? Instead of being all over the place, look for a platform that allows you to select which areas you want to study. That way, you can practice when you're comfortable.
Do they track your progress? It's one thing to practice test questions that are just like the official DVSA tests. But how do you know how well you did? Make sure the platform gives the option to track your progress during and after your practice tests.
Does the online platform offer simulation tests? It's important to study the categories. But the test will draw on the over 700+ questions. Therefore, it's important to practice with some simulation tests.
Do they have hazard perception clips? The hazard perception test requires you to react in real-time to video scenarios. You need practice so that you know what to expect and understand how perception and reflexes work. If the platform doesn't offer HPT practice tests, find one that does.
So, choose wisely. That determines whether you fail, or double your chances of passing the UK driver theory test.
This is one of the common questions about online theory practice tests – is it worth it? After all, you've heard of people who pass the test without studying, so why can't you?
But, did you know that of the persons who sat the driving theory test between April 2019 to March 2020, only 47% passed the theory test? ( Source). Yes, the UK car theory test has a 53% failure rate.
If that's not a major reason to want to practice the test beforehand, we have 3 more top benefits of the UK theory practice tests, especially when you spring for the premium content.
Top Three Benefits of Online Theory Practice Tests
1. Online practice tests save time:
Which method would help you study and learn faster? Reading a PDF or physical copy of the Highway Code? Or practicing multiple-choice questions that teach as you practice?
A theory test questions and answers PDF doesn't give you the right tools to study for the test. You need hands-on experience, just like when you're going to learn to drive. So, using the online practice test with multiple-choice questions just like the real test makes practice easier and more importantly, faster, so you save time.
2. Theory test practicing saves money:
The official UK Driving Theory Test is not free. If you fail a test, you will have to repay the full amount and do it again.
Plus, you have to wait a few days before you are allowed to apply for the re-sit. So, take, for example, a motorcycle theory test. This test costs £23. If you fail it, you'll need to do a re-sit. Now imagine paying £23 and wasting time to sit the test again and fail. When all you had to do was put in a few hours practising the test online?
3. It Builds Your Confidence
One of the reasons we feel stressed in a test is that we do not know what to expect. We then get overwhelmed and flustered. So, even if we know the content, we just don't test well.
The online practice theory tests give your confidence that needed boost before you go in the test. You know what to expect, the structure of the tests, and you can practice as often as you like until you feel prepared to sit the test.
Don't become a part of the 53%. Start practising and aim to pass your driver theory test on the first attempt.
So, yes, the driving theory practice tests are absolutely worth it. It's worth your time, it saves money, and it's helpful for your confidence going into the test. The very low amount that you need to spend makes it all worth it.
In order to drive any vehicle in the UK, you need a valid driving licence. Here's a quick summary of the process of getting one.
You 1st Need a Provisional Licence
Once you hit 15 years and nine months, you are eligible to apply for a DVLA provisional driving licence. You must be a resident and meet the minimum age and eyesight requirement. This is the first step to becoming a full licence holder.
You can apply for the provisional licence online at the GOV.UK website or by completing the D1 Application Form (which you can get from a local post office) and submit by post. You can also request the DVLA forms be sent to you at home through the Department of Transport site.
When submitting the physical application, it must be accompanied with an original photo ID, e.g. UK biometric passport, or a UK-approved identity document. You also need to send a passport photograph, and a payment of £43 as cheque or postal order. If you apply online, the cost is £34, and you submit your documentation online as well. This includes addresses you've lived at for the last 3 years, and your National Insurance Number (if known).
There are different rules for driving with a provisional licence based on the type of vehicle and your age. You can learn more about the provisional licence rules here.
Get Driving Lessons
Find a professional trainer who is an Approved Driving Instructor (ADI). It can be a big driving school or an individual. Just make sure that they are licensed ADIs.
Study and Pass the Theory Test
While you're doing your practical driving lessons, start studying and practising for the theory test. You can use the Highway Code as well as online sites that offer free mock tests and premium practise questions/simulation tests.
Once you're comfortable with the practice test questions, then it's time to book, sit, and pass the theory test.
It's Time to Sit the Driving Test
Before you can sit your practical driving test, you must first pass the DVSA theory test. The driving test takes approximately 40 minutes where the examiner will be assessing your standard of driving. You can book the physical driving test at a DVSA driving test centre.