700+ DVSA Revision Questions

Free
Practice Tests

Hazard Perception Test
Included

Unlimited
Mock Tests

100%
Pass Guarantee

Progress Tracker
& Results
Best Practice for Coach
Don't you worry, our instant guide will help you fulfill your dream.
2023-Ready DVSA theory test practice questions
Practice both driving theory and HPT tests
Works for first-time and repeat test-takers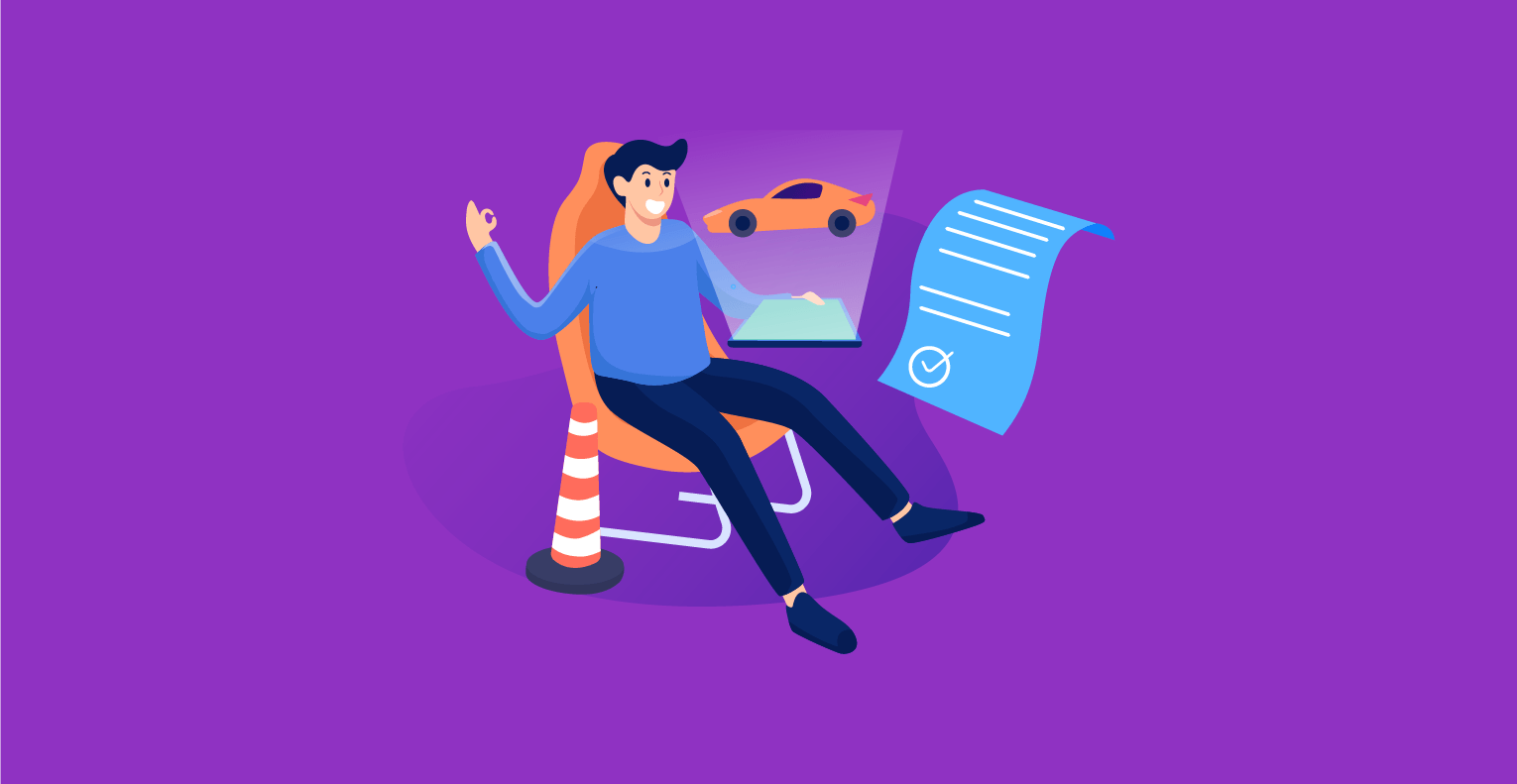 Upgrade to Premium for Better DVSA Theory Test Results
Are you ready to embrace your independence and enjoy the freedoms of taking on the road on your own? Do you want to make sure you can pass on your first go so you don't have to face the hassle of being in the 53% of people who have to retake the test – sometimes with multiple resits?
Well, if you are ready for freedom and better pass chances, here is where you get one step closer to passing your theory and hazard perception tests.
---
Sign up for premium DVSA theory tests and make it that much easier to pass the actual test. You get access to more tests, mock exams, and much more so you are in the best position to sit and ace the test.
Increase Your Confidence and Boost Your Odds of Passing the DVSA Theory Test
The Easy Theory Process on How to Pass the DVSA Theory Test
Get the UK Highway Code
It's very difficult for you to pass the DVSA Theory Test by just reading the Highway Code. But it gives you a great starting point and allows you to see that our questions are on-point.
Practice Premium Online Tests
Our practise test questions are all based on the updated Highway Code. You can take a test run with our free tests and then upgrade to Premium for access to over 700+ test questions.
Take the Mock Tests
When you've finished going through the test categories and questions, it's time for a simulation exam. The mock tests are just like the real test so you can see if you're ready for it.
Sit the Theory Test
Passed your mock exams without trouble? Confidence at its peak to take the real thing? Now you're ready to take on the DVSA Theory Test. Book the test, get there early, and sit and pass.
Why We're The Easy Practice Test Platform
All practice tests aren't the same. Some use generic content that doesn't fit the UK Highway Code or driving conditions. What we promise to you is that you'll get practice test questions ideal for UK driving and testing.
Practice Questions by Categories
The DVSA theory test is based on 14 test categories. These test categories comprise: Traffic Signs, Motorway Rules, Incidents, Hazard Awareness, Alertness, Attitude, Safety and Your Vehicle, and more. Premium gives you access to questions in all these categories so you can study all areas that you may be tested on.
Over 700+ Study Questions
If that number overwhelms you, just know that the DVSA can pull any question from that bank of 700 for your car theory test. So, the best preparation is to study as many of them as possible. Our online platform helps you to study them faster and track where you need to improve.
Unlimited Test Attempts
Practice as often as you like with unlimited test questions and mock test attempts in Premium. You'll want to make sure you practice as many tests as possible so you can go through the over 700 possible questions you could face on the actual DVSA theory test.
Your Personalized Dashboard
The smart dashboard allows you to keep track of your practice tests, scores, and gives you quick access to your challenge bank. It's very easy to use and helps you keep on your toes when it comes to studying and tracking your progress.
The Personal Challenge Bank
While our driving theory tests are applicable to anyone, on Premium you get it personalized for you. Our platform automatically tracks the questions you get wrong and adds them to your challenge bank to make it easier to keep track of your weak areas. So, you can go back to those difficult questions until you understand and can answer them correctly.
Detailed Performance Analysis
Speaking of tracking your progress, we have a process for that too. In your dashboard, you'll see a detailed performance analysis of your test scores and progress. This gives you a visual idea of how well your test prep is going, and when you're ready to book and sit the actual test.
The Magic Behind our DVSA Practice Tests
Driving Theory Tests designed a platform to help the first time and repeat test-takers make better use of their study time online and prepare faster to pass the theory test.
UK Specific Test Questions
You study the right material with our HPT tests. They are designed based on the Highway Code. The clips are as realistic as possible to potentially hazardous situations here in the UK to make it easier for you to pass the test.
Free & Premium HPT Tests
Our free tests give you a head start. But our premium resources ensure you can go the full distance to DVSA test success. So, start free and get a feel of it. Then, upgrade when you're serious about passing.
Just Like the DVSA Test
We make our mock tests just like the real test and our practice questions similar to the real thing. That way you know what to expect on the test, and you can prepare much faster to sit and ace the DVSA Test.
Prepare Anytime, Anywhere
Learn on the go with our easily accessible practice test questions. Use any device anywhere with an internet connection to log into your account and keep learning. The more you study, the better your chances are of passing.
Strategic Study Plans
Keep track of failed test questions. Study by categories. Hate reading long documents like the Highway Code? Just practice the questions and learn as you go. You choose how best to study, so you're in control.
The Winning Formula
The theory test has an over 50% failure rate. We are making sure you are not in that statistic. With unlimited attempts and immediate results with explanations, you are getting access to the right formal for test success.
DVSA Frequently Asked Questions
FAQs
The DVSA Theory Test is the test potential drivers take when they want to move from learners to full permit. You must pass the theory portion of the test before you're allowed to take the driving test for your licence.
The theory test is delivered in two parts – a multiple-choice section, and the hazard perception test, which consists of a series of video clips. A pass requires that you pass both sections of the test.
In the first section of the test, there are 50 multiple-choice questions for which you are given 57 minutes in which to answer them. The HPT section carries the video clips for you to identify the hazards and react to th, it's 44/75.
The test questions are pulled from 14 categories defined by the DVSA. So, it pays to study with a platform that can give you "real" test questions and better support on your learning to diver journey.
Learn Faster and Smarter, Not Harder. Use our online platform to study all the test formats – car theory, motorcycle, or HGV/LGV.
There are several types of DVSA theory tests you can take. If you want to sit the car theory test, then you can choose to study and practice the relevant categories for the car theory tests. This keeps you focused on what you need to know to pass this test.
You can also get a first-hand experience on how the DVSA theory test works with our mock theory tests. These simulation tests help you to know what to expect on the day, so you go in well-prepared to pass the test.
When you upgrade to premium, you have access to all tests and revision material to help you prepare.
Once you're over the age of 17, you can book the theory test with the official DVSA service. You can book your official DVSA car, motorcycle or HGV/LGV test online. You can change the appointment time, but only if you do so before the date.
If you miss the scheduled start, you will not be allowed into the testing room so as not to disrupt the other test-takers. Try not to miss the test as you will not be refunded your test fee. Please check the requirements on what to bring to the testing centre (like your Learners Permit) before the day.
DVSA Best Articles
Articles
To get a full driving licence in the UK, you need to pass the practical driving test. But, before you get to that stage, you need to pass the DVSA theory test.
Here's a quick run-through of the process to help you understand the official DVSA theory test.
Are you allowed to drive?
The first step is making sure that you're eligible to drive. Whether you're allowed to drive depends on the type of vehicle and your age. For most residents and people authorized to live and work in the UK, it means you can start to learn to drive at age 17.
Get a provisional licence
A provisional driving licence is a permit that allows you to drive on most UK roads under supervision. Your driving supervisor can be an instructor or another adult as long as they are older than 21 years, and they've had their full driving licence for at least 3 years prior.
There is a cost to applying for a provisional licence that ranges from £34 - £43.
Start practical driving lessons
Now that you've gotten your provisional licence, it's time to get some driving lessons in. You can learn from an approved driving instructor (ADI) – which each set their own rates. Or you can get a family member or friend who meets the requirements to help you get in the practical driving lessons.
Practice online theory tests
While you're learning the practical aspects of driving, you need to know the theory behind it. This means studying the Highway Code and getting in practice DVSA theory questions and hazard perception test clips to help you prepare to pass the official test.
Book and sit your theory test
Now that you've prepared as best as you can for the real test, it's time to book the DVSA theory test. The cost starts at £23. You can book a test for cars, lorries, buses, and motorcycles.
If you can't make the test on the day, ensure to change your test date. This is free of charge to do so.
Book and take your practical driving test
The final step to getting your full licence is passing the driving test. But, before you can get there, you should know that passing the theory test is a requirement for booking the practical exam. You can learn more about booking the driving test here.
And that's it. Once you're successful in your theory and practical tests, you'll be qualified for a UK driving licence.
Getting ready to take on the DVSA theory test? Here are 4 key things you need to remember about the DVSA questions and answers. Knowing them also shows you why it's extremely important to not just study for the theory test, but also to use practice questions.
1. Hundreds of theory test questions and answers
Your theory test will consist of 50 randomly chosen questions from a bank of almost 1000 questions. All the questions are, however, based on the UK Highway Code.
You get 57 minutes in which to answer the questions. The pass mark is 86% meaning you need to get 43 of the 50 test questions correct. That is a low margin for error, and which contributes to the low pass rate.
There is also the hazard perception section of the test which is a series of interactive video clips for you to click when you see a developing hazard.
2. The Driving Theory Test pass rates
The Driver and Vehicle Standards Agency (DVSA) keeps track of the theory test pass rates. Based on their results, less than 50% of persons who took the theory test passed.
For example, for the April 2019 to March 2020 period, the pass rate was 47.7%. This result means over 52% of the people that did the test did not pass.
The pass/failure rates just go to show that the test is difficult for most and that you need to study and practice to ensure that you have a better chance of passing the test.
Updates to the theory test
The theory tests questions are updated regularly by the DVSA. You need a practice test question website that offers you updated questions and answers. Otherwise, you may be missing critical updates that could have helped you pass the test.
So, sign up to a website like ours which offers DVSA 2023 theory test revision questions and hazard perception clips. We ensure to update our database in line with the updates from the DVSA.
4. Theory test questions and answer categories
The questions focus on 14 theory test categories. Not all categories may show on your test and you can't guess which ones to study to not study. So, you need to revise and study all 14 areas and the hundreds of practice questions that will cover them.
Free theory practice questions for 2023
Let's help you prepare to sit the DVSA theory test. Start with our free theory practise questions and then upgrade to the premium version for even more practice questions, mock tests, and challenge bank access.
If you're wondering, how many parts are there in the DVLA theory test, then keep reading.
The DVSA theory test consists of 2 sections. These are (1) multiple-choice questions, and (2) the Hazard Perception Test.
You must pass both sections to be able to progress to the next stage to acquire your full driving licence.
Part 1. Multiple-choice
The multiple-choice section consists of 50 multiple-choice questions to be answered in 57 minutes.
The questions are shown on the screen, along with several possible answers. It's your job to choose the correct answer. Some of the questions may be displayed in a case study type format. As such, it may be given as a short story following which you'll be asked to answer several questions based on the issues presented in the story.
The questions tackle approximately 14 areas highlighted in the Highway Code. These are questions on:
| | |
| --- | --- |
| Accidents | Road and Traffic Signs |
| Alertness | Rules of the Road |
| Attitude | Safety & Your Vehicle |
| Documents | Safety Margins |
| Hazard Awareness | Vehicle Handling |
| Motorway Rules | Vehicle Loading |
| Other Types of Vehicles | Vulnerable Road Users |
As you can see, there are many categories and hundreds of questions. You have to study and practice as many of them as you can. Because you won't know from which categories they will choose the 50 random questions on your DVSA official theory test.
Part 2. Hazard Perception Test
The hazard perception part of the DVSA theory test is a video-based test about identifying hazards on the road.You're generally allowed a break of up to 3 minutes between each section of the DVSA theory test.
You'll be shown videos from the driver's perspective and expected to click to address a hazard on the road based on the scenario presented. The developing hazard may require you to slow down, stop, turn, etc. There's also a skill at answering these questions. If you click too soon or wait too long to answer, you won't get the point.
So, make sure to brush up on your hazard perception skills by practising with as many interactive video clips as possible.
Ready to take on both parts of the test?
If you want to make sure that you're ready for the theory test, then make sure to sign up for Easy Theory Test. We give you the ideal platform to study both the multiple-choice and HPT test questions online.
Get started on whatever device you have – tablet, laptop, phone, or computer. Our responsive website is here to help you succeed.
As a first-time test taker for the DVSA theory test, you're going to want to avoid the high failure rate. To do that, you need all the resources to get you ready the right way to pass the test – even if it's your first time.
So, here's what you need in your get ready kit to pass the DVS A theory test.
Highway Code
Practice tests
Mock Exams
Performance Management
Your Test Prep Kit
Get your Highway Code
The Highway Code covers the various categories that may come on the test. So, to ensure you know what topics are likely to be assessed, get the most current version of the code.
Download or read the Highway Code from the Department of Transport official website to ensure you get access to the most up-to-date version of the code.
Get access to practice test questions
It helps to know what the questions may be like on a test. So, just like how you go through past papers for official exams, you need samples of the DVSA theory test to practice with.
Get practice tests, whether physical or electronic, so you can start looking at the types of questions and how they may be worded.
Practice hazard perception questions
Responding to hazards is an essential part of the theory test. That is something you can't leave until the test to experience. So, get a practice theory website that gives you access to hazard questions and HPT simulations that are just like the real thing.
Take mock exams
Remember how you prepared for your GCSEs? Even though you've been taught for years in preparation for the GCSE final exams, you're normally given a mock exam before the official test. That's because it makes it easier for you to sit the real test when you know what to expect under exam conditions.
It's the same for preparing for the driving theory test. Make sure you're taking mock exams that are designed for similar test conditions – computerized and timed.
Performance management
Do you have something to measure your progress and readiness against? If not, how will you know if you're ready to pass the test? Easy Theory Test tracks your test readiness through our smart dashboard that shows your progress and pass rate for the practice tests.
Let's get you ready to pass the DVSA theory test. Prepare and pass with everything together in our DVSA test readiness kit.
Some people think that it's relatively easy to pass the DVSA theory test. But it's only easy if you go in prepared.
Getting ready for the DVSA theory test means lots of practice. Otherwise, you'll end up like the many people who've had to resit the test multiple times.
So, to get in that practice, you need to find a reputable online theory test practice website. Here are 5 things to look for when choosing a theory practice website.
1. The number of questions
The official DVSA question bank has hundreds of possible questions under the various test categories. But for the actual test (depending on the test category), you only need to answer 50 questions with 43 correct to pass.
Since you will not know which questions are coming on the test, it's better to practice as many questions as you can to be as prepared as possible. Your theory test practice question website should give you options for hundreds of practice test questions.
2. Challenge bank
Now, this is unique to only a few websites and so will help you narrow your list quickly. A challenge bank is a system whereby the difficult questions (ones you answered incorrectly) are automatically saved for you to tackle again later.
This makes it easier to keep track of questions you need to review and gives you an option to address those questions only when you're ready.
3. Accessibility
You may not have a set time to study. So, you need to sign up for a DVSA practice website that is easily accessible and mobile-friendly. This means you can practice on your smartphone, tablet, laptop, or computer from anywhere you have an internet connection.
4. Performance monitoring
A well-designed question site allows you to track your progress as you work through the questions on the site. Otherwise, how can you know which sections are your weak areas and where you need to improve?
5. Free DVSA practice test questions
Before you sign up for the paid options to study, make sure you can try a few practice questions for free. This can help you determine whether the questions are truly like the real DVSA theory test.
What if you have the DVSA theory test book?
Well, you may think that having the official theory test book is sufficient to pass the test. And for a minority of test-takers, it may be.
However, you won't get the full hands-on experience that comes from practising the questions in a similar situation to the real test.
So, sign up for the better theory test practice website today.
Revise and Practice with the right resources. That's the only way to ensure you pass the car theory test. And we're here to help you make it happen. Get ready for the car theory test the easy way. Start practising online right now.
Try a Practice Test