700+ DVSA Revision Questions

Free
Practice Tests

Hazard Perception Test
Included

Unlimited
Mock Tests

100%
Pass Guarantee

Progress Tracker
& Results
Best Practice for Coach, Bus or Lorry Drivers
If you are learning to drive any of these vehicles, we'll help you prepare and pass the UK theory test. We'll provide you instant access to:
Get prepared to pass the intense HGV/LGV Theory test
Access updated LGV test questions to help you study
Use the platform that helps more people pass their first time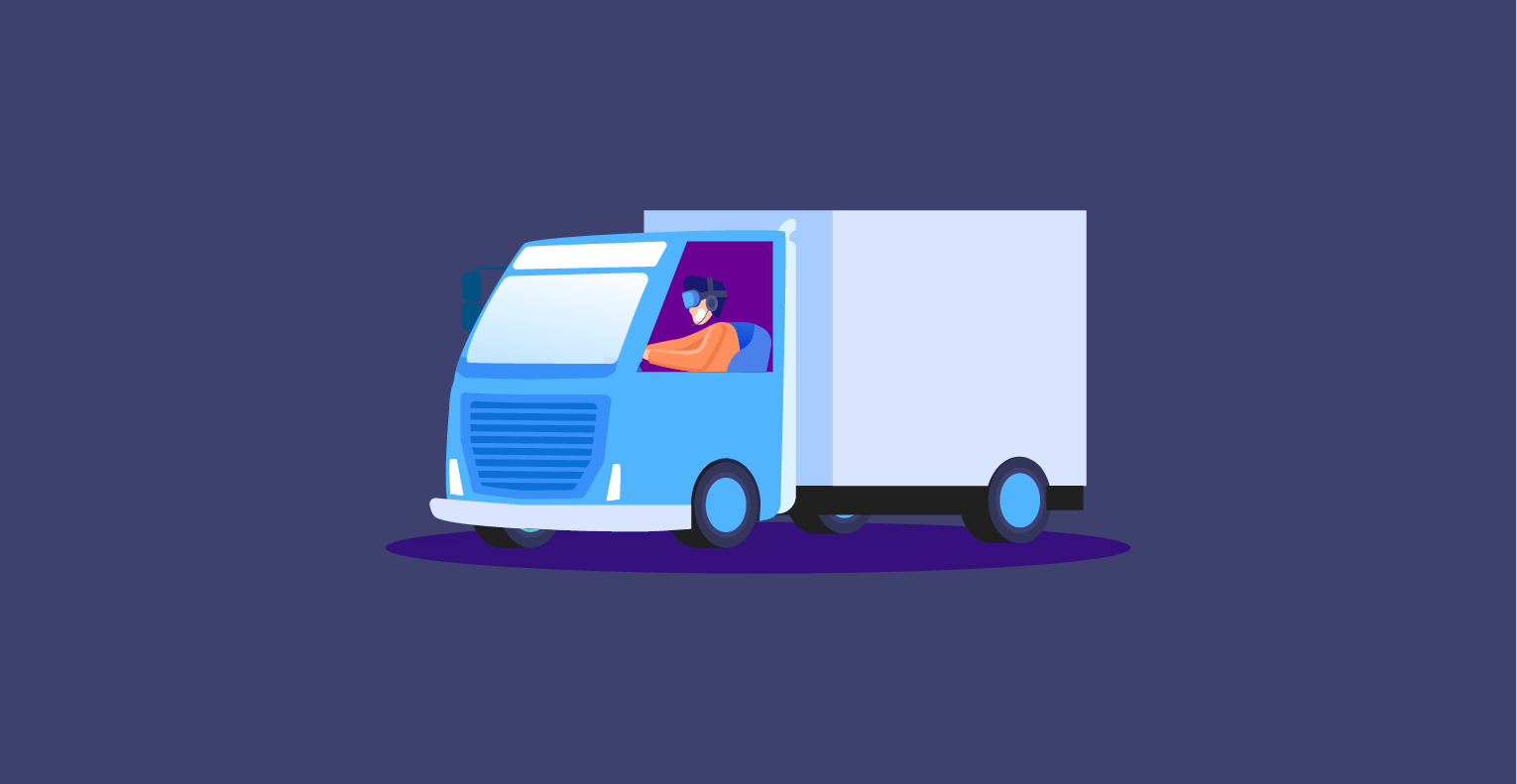 Become a Qualified Lorry or Truck Driver and Open Up New Business and Work Opportunities
A large goods vehicle (LGV) driving licence opens a whole new door for work and business possibilities. But you first have to pass the HGV/LGV Theory Test.
The theory test is intense, with 100 multiple-choice questions plus the hazard perception test. If you don't pass, that's your business opportunity gone. You can't take chances with this test. That's why we've designed a platform that makes it easier to study and retain the information for the test and do so in a faster time.
---
Driving Theory Test gives you all the training and study material you need to ace the DVSA LGV Driver CPC part 1 theory test. Simply sign up today and start learning.
The easier process to Driver CPC test success for new lorry, truck, and large vehicle drivers
Here's how the process works to help you pass your HGV theory test.
Get the Manuals
Download the official Highway Code and the DVSA Guide to Driving Goods Vehicles. You'll need both as support in your study process to pass the DVSA driving test.
Start Practicing Online
We have practice test questions for every category that you'll be tested on for the LGV (HGV) theory test. Try the latest practice test questions and HPT videos.
Take The Mock Tests
The mock exams allow you to test your readiness to sit the real test. Didn't pass? Keep studying using the practice questions. Passed the mocks? Book the real test.
Book Your Theory Test
Got the passing grade on your mock tests? Visit the DVSA site and book to take the test at a centre close to you. Then, it's time to sit the test with confidence and pass.
The LGV Theory Test Practice Site That's Full of Value
Choose the practice test platform that offers personalised study on the go. Here are a few of the many benefits you get from the platform of choice that helps more people pass their LGV (HGV) test.
Study Faster for the HGV/LGV
The DVSA has 14 categories for test questions for the theory test. We help you study smarter by categorising our test questions so you can study by topics. Each question has an explanation of the answer, so you learn as you practice. Plus, our Hazard Perception video clips help you learn what to expect on the LGV hazard perception test.
Prepare for any HGV Category
Going for a Category C1, C1+E, C, or C+E licence? Then you need resources to help you prepare for the first step. We give you access to practice test questions that will allow you to pass any category HGV theory test.
Use Your Unlimited Attempts
There are over 700+ practice questions based on all the content you need to learn for the theory test. That means you need unlimited attempts to go through all of them and retake those you need to study more. It's the same for our mock tests. So, sign up knowing you can use the platform as often as you need to prepare in a short time to sit and pass the HGV test.
The Simple & Easy to Use Platform
Studying online for your CPC shouldn't be hard. You are already focused on trying to learn all the material. You don't need a difficult to use website. Again, we make this easier for you with a Smart Dashboard. You can see all the information on your progress and performance in one place so you can practice in a practical manner that helps you prepare faster and better for the real test.
Personalised Learning Experience
Once you sign up, your study process is personalised to you. You will find this with our Challenge Bank that tracks all the difficult questions you're having problems with for you to tackle later. This makes it much easier for you to know what to study and gives you a simple review process.
Keep track of your progress
We don't leave you on your own to study. Using the built-in Performance Analysis Report, you can track your readiness to take on the real test. This helps you to determine how you're improving and when you can be confident to go and book the test.
The Value-Packed Online Study and Practice Test Platform for HGV (LGV) Test Success
We're here to help you become a qualified lorry driver. Here are the many benefits of choosing Easy Theory Test as your preparation partner for the CPC theory test part 1.
UK-Specific Theory Test Questions
Let's get you closer to your CPC qualification by helping you pass the LGV test. These questions are designed to ensure they follow the UK Highway Manual and the DVSA Guide to Driving Goods Vehicles.
Just like the Real LGV Test
The mock tests are timed, just like the real test. The practice test questions are written to reflect the real theory test questions. Plus, our HPT clips are test-type videos that you seem just like the real thing.
Learn on the Go
Enjoy the flexibility of studying on the go with an online platform that is available 24/7. Your schedule may not allow dedicated classes. So, we let you study and practice whenever, wherever you're available.
Free and Premium Content
You can start with our free test questions and then upgrade to Premium for more value. With Premium, you have access to our Smart Dashboard, personalised study process, and study progress analysis.
The Smarter Study Process
It'll be hard to find test questions and mock tests as close to the real DVSA test as what we offer. With us, you know exactly what to expect on the real test for both the multiple-choice and hazard perception tests.
Unlimited HGV Tests
Get unlimited attempts at practice questions in their respective categories and the mock tests. The more you practice the questions, the faster you'll learn and be able to book and sit the LGV (HGV) theory test.
Frequently Asked Questions
FAQs
The Heavy Goods Vehicle/Large Goods Vehicle theory test is the first part of the process of being certified as a lorry/truck driver. It comes in 2 parts. Part 1a is the multiple-choice section, and part 1b is the hazard perception test.
You need to pass the LGV test before you can apply for the Driver Certificate of Professional Competence (CPC), the EU standard qualification for drivers of lorries, trucks, and other large vehicles.
Unlike the regular car or motorbike theory tests, the HGV/LGV theory test is much longer. The HGV consists of 100 multiple-choice test questions. You get 1 hour and 55 minutes (115 minutes) to answer all 100 questions. The pass mark is 85 out of 100.
The LGV hazard perception test has 19 video clips from the perspective of the driver. You will need to watch and respond to each potential hazard to prevent an accident. You have 25 minutes to complete this part of the theory test. You can make a booking for the LGV theory test here where you're ready to sit it.
To start, you can download the Highway Code and the DVSA Guide to Driving Goods Vehicles (also known as the LGV theory test book). These give you a starting point to get to understand the type of information you will be tested on. However, to give yourself the best chance of passing the theory and HPT test, you should use the HGV theory practice tests.
With the right practice platform, you can access over 700 questions to help you prepare for any of the categories that will be tested in the 100 questions you get on the real test. Plus, understanding how to react to the hazard perception clips takes some getting used to. So, you need to practice a lot of different scenarios, so you know exactly what to do when you get into the test.
Because of all this, it's important that you choose your theory practice test website carefully. When you do, you get the best chance of passing the LGV test on your first attempt.
There are 4 different LGV/HGV licence categories – C, C+E, C1, and C1+E.
Category C (also known as Class 2) means you are licenced to drive vehicles that are above 3599 kg in weight or a trailer of 750kg in weight.
Category C+E is a Class 1 licence that covers everything in Category C but also includes trailers that weigh more than 750kg.
With a Category C1 licence, you can only drive vehicles that weigh between 3500kg and 7500. For trailers, you cannot drive anything heavier than 750kg.
Finally, the Category C1+E licence gives you C1 licence privileges with the added benefit of driving a C1 vehicle with a trailer that weighs more than 750 kg.
HGV/LGV Theory Test Articles
Articles
The HGV theory test questions come in two parts: 1a – multiple-choice; and 1b – hazard perception.
For 1a you need to answer 100 questions in 115 minutes with a pass mark of 85 out of 100 to progress to 1b.
In part 1b, you are shown 19 hazard perception video clips. Each clip has at least 1 developing hazard, and one of the clips will have 2. So, make sure to click for each developing hazard you see in the question (the video clip). The pass mark for the HGV hazard perception test is 67 out of 100.
Understanding the HGV Theory Test Questions and Answers
The questions on the HGV theory test will never be exactly the same as the ones in the Highway Code. They are testing you on your knowledge, not how well you memorise the answers. So, that's why our test website offers different variations of the same question so you can actually learn the information, and not just try and recall an answer.
The HGV theory test will have some very specific questions related to driving heavy goods vehicles. Some of the topics you can expect on the test include:
Accident handling. What you should do at the scene of an accident, safety equipment requirements, how to assist/help after an accident
Braking systems. Questions related to Anti-lock Braking Systems (ABS), using and taking care of your air brakes, emergency stops and escape lanes
Documents. Learn the licence categories, restrictions and relevant fines, registering your vehicle as going off-road (SORN), CPC and Maximum Authorised Mass (MAM) of vehicles.
Drivers hours and rest periods. Understanding EU and EC rules, questions about driving while tires, mandatory rest stops, tachographs
Environmental issues. Learn what to do or how to react to spillages, speed, improving fuel consumption.
Leaving the vehicle. This topic covers issues related to parking, and how to enter and exit your vehicle.
Other road users. Driving in relation to other vehicles, riders, and pedestrians.
Restricted view. Understanding how long vehicles work including turning with LGVs and manoeuvring in traffic, what to do in blind spots
Road and traffic signs. Learn the more than 50 road traffic signs in all their various categories, colours, and shapes.
The driver. Driver safety, including seat belt use and driver behaviour, predicting the movements of other road users
The road. Questions on driving an LGV on wet roads, overtaking, driving in poor weather conditions, use of junctions and lanes
Vehicle condition. Caring for your large goods vehicle including recognising warning signs and maintaining the vehicle's essential systems
Vehicle loading. Understanding special signs for dangerous roads based on your vehicle cargo, and the secure loading and unloading of cargo.
Vehicle weights and dimensions. Speed limits, understanding height and width signs and weight restrictions.
As you can see, you need to learn quite a bit of information before you book your LGV driving theory test. So, make sure that you prepare well. Try our free HGV test questions or join the premium plan at Easy Theory Test and access hundreds of HGV questions and answers on these topics.
Passing your HGV theory test is the first step in opening up business and career opportunities. So, you need to pay attention to the HGV test questions and answers to ensure you can pass, even on your first try.
Here are our 3 top tips on getting ready and passing your LGV theory test – even on the first try.
Learn the material
The Highway Code is a great place to start learning the requirements for the HGV test. We don't recommend trying to memorise the questions in the Highway Code. The DVSA theory test will assess your knowledge of UK road rules and driving a large goods vehicle. The questions will not be as written in the Code.
That's why it's good to access a driving theory practice website that carries hundreds of HGV test questions with answers and explanations.
For example, Easy Theory test offers free and premium test questions. You can always try our free HGV practice test first before upgrading to the premium access. This access gives you hundreds of test questions and answers to practice so it's easier for you to learn the material.
Practice, practice, practice
Practise your HGV theory test questions and answers online and get ready for a new lease on life as you take the next step to become a qualified LGV driver.
To help you understand the material for all these LGV test questions, we have a bank of hundreds of HGV practice questions. In our practice tests, there is an explanation for each HGV test question and the answers provided. This allows you to practice while studying the material. It improves your retention skills when you can understand the why behind an answer. This makes you better equipped to answer the questions on the actual test.
You will gain a better understanding of the rules of the road, especially as they relate to driving large goods vehicles. So keep practicing until you can consistently pass the HGV mock tests.
On taking the test
If you prepare well with us, then you're ready to book the HGV test. In doing the multiple-choice test questions, if you're unsure about a question, flag it. This allows you to skip the question and come back to it when you've finished the others on the test. This allows you to spend more time on answering the other questions than worrying about the difficult ones.
Answering the HGV Hazard Perception Test Questions
The hazard perception clips form part 1b of the HGV theory test. However, responding to the hazard perception clips can be very tricky. This is especially the case where first time LGV test-takers didn't practice any clips before the test.
You need to practice identifying the potential hazards and clicking as it transitions to a developing hazard. You won't be penalised for clicking more than once, unless you're consistently clicking, or the system notices a pattern. But it's best to get the click in as early as possible once the potentially hazardous situation starts to develop.
Access hundreds of questions with Easy Theory Test to get ready to pass the HGV on your first try.
The HGV theory test is about understanding how to drive large goods vehicles like lorries versus smaller vehicles (cars, bikes, etc.). So, the questions for the LGV theory test and hazard perception test are a bit different from the other driving theory tests.
Once you have mastered how to answer the questions, you can easily pass the test and look forward to getting your LGV driving licence.
How many questions on the LGV theory test?
There are 2 parts to the HGV theory test – the multiple-choice section and the hazard perception test. The multiple-choice section has 100 questions. Some questions are of a general nature, while others are specific to driving large vehicles. So, for example, in studying for the theory test, pay close attention to signs that inform you of restrictions related to large vehicles.
If you're sitting the hazard perception section of the LGV theory test, there are 19 videos in total (with 20 developing hazards). And of course, you already know that you need to click as early as possible in the developing hazard to get the maximum available points for those questions. (If you didn't, we suggest you start practising online with our HGV hazard perception clips.)
Unlike the other DVSA driving theory tests, you don't need to do both parts of the LGV theory test on the same day. You can also take the Driver Certificate of Professional Competence (Driver CPC) before or after you sit the LGV theory test.
Preparing for the HGV hazard perception test
A developing hazard is any situation that would require you to take action like slowing down, stopping, or turning. Identifying those in a video clip and clicking to show you have seen the hazard boils down to clicking at the right time. So, you need to understand what developing hazards are, how to spot them, and how to react.
As a driver of a large goods vehicle, there are certain potential hazards that stem from being such large vehicles. How to navigate turns and corners. How soon you react to developing hazards because of your air brakes systems, weight of the vehicle, and speed at which you are travelling.
Now, in no way should you attempt to take on the hazard perception test without first getting some practice questions in. We say this because passing the hazard perception test is often the most difficult part of the driving theory test.
Booking the HGV theory test
We recommend that in addition to practicing the tests on our website, that you get in some practical driving lessons before sitting the theory test. Doing so will give you a better appreciation for the questions and answers on the LGV theory test, and help to improve your hazard perception skills.
Get plenty of rest before the test and make sure you get to the test centre early. (If you miss your test start time, you'll need to reschedule and pay a new fee.)
So finally, click through to access our full suite of questions and answers for 1a (multiple choice) and 1b (hazard perception test) of the HGV theory test.
Becoming a lorry driver can be one of the best things to happen to you.
There are a growing number of available jobs in the UK and throughout Europe for drivers of large goods vehicles. And truck driving is a very lucrative career. So, it's important that if you want to position yourself for one of these jobs, you need to get your LGV driving licence and CPC certificate.
But before you can take on the driving test, you need to study and pass the theory test. There is no way around this. You can be the best lorry driver there is, but if you don't know the rules of the road, you can't get a licence.
What you should know before booking the test
What contributes to the high failure rate is persons believing they already know how to drive, so they can answer a few questions. But that's not the case for most of them. So, in preparing for the test, here are 3 things you should do:
1. Know the format of the test
The test comes in multiple-choice and video clips. Know what it looks like before test day so you're well prepared.
2. Take online practice tests
These are perfect for showing you what to expect while helping you learn the test matter.
3. Do a lot of hazard perception practice
Don't let the HPT trip you up. Get in as much practice as possible so it becomes easy on test day to react to the developing hazards shown.
Studying for the HGV theory test so you can pass
Many persons who take the theory test fail. Even being licenced motor car drivers don't put them at an advantage when it comes to passing the theory questions.
So, it boils down to how you prepare – whether you're a newbie driver or you have years of driving under your belt.
To get yourself in the best position to pass, you should be practising the questions online and reviewing the answers so you can learn the rules of the road. The sooner you start studying and practising with online questions, the better. It's a lot of material to get through, and our site has almost a thousand questions for you to practice. Therefore, start early so you can measure how ready you are and start leaving time open to use the practice tests.
You should note that the test questions won't be just like the ones in the Highway Code. So, to give you an advantage in the test, our questions ask the same thing in multiple ways so you can learn the answers.
Time for a career move. Pass your HGV theory test
Until you pass the HGV theory test, you're losing out on opportunities to start a career that involves driving heavy goods vehicles. You need to practice the test questions diligently and make sure to learn the information, not just memorise it.
So, there's no time like the present to get started practising your LGV theory test questions and answers. Click on the link above and join Easy Theory Test premium users who pass their HGV theory and hazard perception tests on their first try using our practice material. All our premium test users find our questions and answers useful for revision and for learning.
Don't Take Chances with Your HGV/LGV Test. Sign up today to start practicing for the LGV theory test with study material designed to increase your chances of passing the test. We want you to succeed, and you can do that by starting right here, today.
---
Sign Up Today