700+ DVSA Revision Questions

Free
Practice Tests

Hazard Perception Test
Included

Unlimited
Mock Tests

100%
Pass Guarantee

Progress Tracker
& Results
Fulfilling your Motorcycle Riding Dream
Do you wish to drive a motorcycle but need to pass a UK theory test? Don't you worry, our instant guide will help you fulfill your dream.
Motorcycle theory test questions based on the Highway Code
Practice exclusive theory tests for motorcyclists
Perfect for newbie riders, renewals, first-time test takers and resits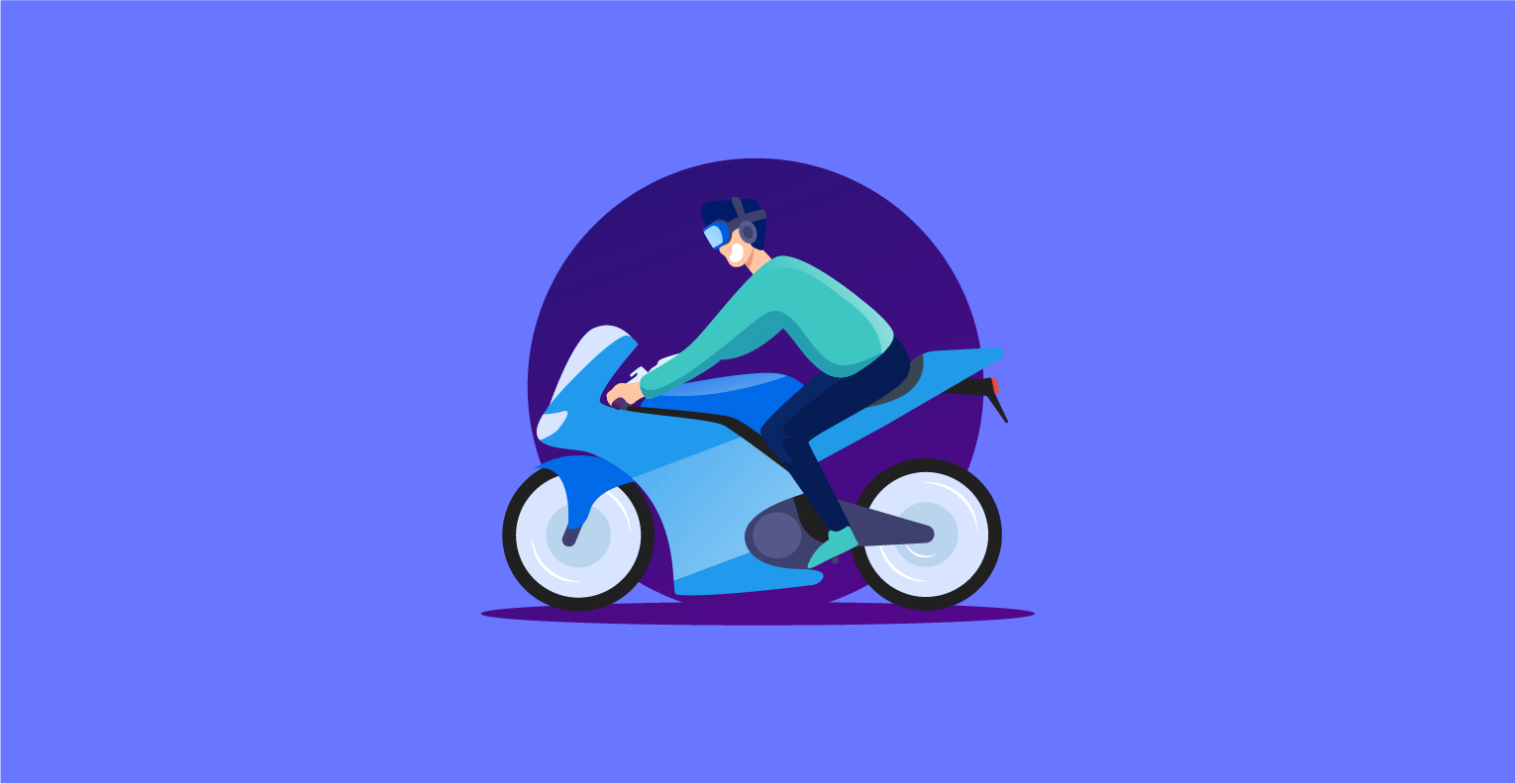 We're Making It Easier for You to Pass Your Motorcycle Theory Test
A motorcycle is an easy and fun mode of transportation. But before you can hop on and ride off, you need to pass the motorcycle theory test administered by the Driver and Vehicle Standards Agency (DVSA).
But passing a theory and hazard perception test can be a little bit challenging. Especially if you're a first-time test taker. You might also be apprehensive if you took the test before and failed.
---
Driving Theory Test is here to make the study process much simpler for this time around. Sign up to Premium to access all the test questions that can help you quickly learn the Highway Code and get you ready to ride over that test
Ride off into the Sunset with a Theory Test Pass
Figuratively, that is, since you still need to do the motorcycle road test. But you can always just just rush home to your family and shout yes, I passed my theory test. Here's how to get it done.
Download the Highway Code
It's available online as a PDF. Yes, it's long and difficult to study. But you can compare it to our free and premium theory practice tests, so you know you're getting the right info to help you learn.
Find Test Questions
Test away with our practice questions. You have unlimited attempts to keep learning until you get it right and can answer questions from any section of the Highway Code that may be on the real test.
Try a Mock Test (or Few)
The best way to test your readiness for the real motorcycle theory test is by trying to pass our mock tests. They are designed to be just like the real DVSA test with both the multiple-choice and HPT.
Sit the DVSA Test
Are you consistently meeting the pass marks on our simulation motorbike theory tests for both sections? Then you're ready to book online with the DVSA to sit the real thing and pass with riding colours.
Choosing an Online Motorbike Theory Test Site
Free motorcycle practice tests are not sufficient to get through all the material that the test will cover. So, choose the online platform with the right tools to help you study for and pass your theory test.
Practice by Categories
Our tests are designed to help you learn at a faster pace than simply trying to study the Highway Code alone. Plus, by categorizing our test questions, you get a better chance at studying at a pace and in a manner that best suits your learning style. These categories are still in keeping with the DVSA requirements such as Traffic Signs, Motorway rules, safety of your Motorbike, and more.
Over 700+ Practice Questions
Unlock a huge treasure trove of exam-like questions when you sign up to Premium. You get immediate access to our over 700+ multiple-choice theory test questions based on the official questions that may be in your DVSA motorbike theory test.
Unlimited Test Attempts
Whether it's the individual test questions or a motorcycle theory test mock, you have unlimited attempts with Premium access. Unlimited allows you to practice as often as you need. Therefore, you will have the best possible chance of passing that theory test when you sign up.
The Smart Dashboard
Want to keep updated on your progress in real-time? You can keep track through the smart Dashboard that comes with your premium account. Access instant feedback on your practice tests and mock theory exam. Get full mock tests results almost instantaneously. Track which tests you've tried and the categories you have studied.
The Challenge Bank
One of the elements of our platform loved by our users is the Challenge Bank. It automatically logs the questions you answer incorrectly so you can review those questions only. You know which areas require just a little bit more focus before you're ready to try the real test.
Performance Analysis Report
You can't track your study progress without being able to access your performance analysis. We track how you do across the tests in the platform and give you a detailed report of the areas in which you are competent (getting a passing score) and what needs a bit more work.
Our Users Pass Their Moped & Motorcycle Theory Test. Here's Why.
They go prepared because our online practice quizzes get them ready. You too can pass on your first try if you study for the test using the Easy Theory Test practice questions.
UK-Specific Test Questions
Our motorcycle practise test questions are specific to the UK. They are based on the Highway Code which is what is used to set the questions for the DVSA theory test. So, we update our test questions whenever the Code is updated.
Premium Access to More Quizzes
You can access some of our practice quizzes for free. But, if you want the best chance of passing, you need to review the 700+ questions. Don't worry, it won't be that hard when you're studying them in our practice format.
Practice Tests Like the Real Thing
From individual questions to motorcycle mock theory tests, you get a direct look at what to expect when you sit the real test. Otherwise, you would end up like the over 50% of people who fail the test who did not know what to expect.
Accessible On The Go
This is not like school where you have to sit and work in one place. Our test questions are online, so you can access them from anywhere. Have a break at work, on the bus, relaxing? Jump on your phone and practice?
Better Study Process
The Highway Code isn't written in a way that makes it easy to study for a test. And even the DVSA tells you to take practice tests. But our platform also gives you the tools to track your progress so you can have a better outcome.
The Pass Strategy
The test has a high failure rate. To counteract this, we give you unlimited test attempts, performance analyses, options to track difficulty areas, and to view the explanation behind an answer immediately so can you study faster.
Frequently Asked Questions
FAQs
The motorcycles and mopeds theory test is a paid theory test administered by the Driver and Vehicle Standards Agency ( DVSA).
You must pass the theory test before you can take the motorcycle practical test. If you fail the theory test, you have to wait before you can re-book the test. You also will not be reimbursed your test fee. If you miss the test or arrive late, you will have to pay a new fee and book another date.
The theory test comes in two parts. The first part is a multiple-choice test with 50 questions which must be answered in 57 minutes. This part of the test assesses your knowledge of the 14 official categories set by the DVSA and is based on the Highway Code.
The second part is the hazard perception test (HPT). The HPT involves reviewing video clips showing potential hazards and you clicking to show how you would respond. One of the clips has 2 hazards, while the others only have 1.
The motorcycle theory test pass mark is:
43 out of 50 for the multiple-choice test
44 out of 75 for the hazard perception test
Studying for a theory and hazard test where you're not sure what to expect can be difficult. Plus, the .gov site only gives you 2 practice tests to play around with. You can check out the gov.uk motorbike theory practice tests here.
So, it's important that you find a quality online site that allows you to study, learn, and prep to pass the Theory & HPT tests for your motorcycle licence.
At Easy Theory Test, we give you online practice questions, mock tests, and a platform that tracks your readiness to sit the real test.
Once you feel confident that you have studied the practice quizzes and you are passing the mock tests on the Easy Theory Test platform, then you can go ahead and book the DVSA motorbike test.
Simply visit https://www.gov.uk/motorcycle-theory-test and book online or call in to book the test.
Persons who are learning to ride a moped of maximum 50 cc can book the test once they reach 16 years old. For motorcycles, you must be at least 17 years to take the test.
Motorcycle Theory Articles
Articles – UK Theory Test
Just like getting a licence to drive a car, if you want a licence to ride a motorbike or a moped, you need to pass the theory test. Let's quickly look at what is the motorcycle theory test, how the multiple-choice exam and the hazard perception test work for a motorcyclist, and what pass mark you need.
The motorcycle theory test consists of two sections – the multiple-choice exam, and a hazard perception test. Here is a breakdown of the 2 sections.
1. The Multiple-Choice exam
There are 50 questions on this test which is administered electronically at a DVSA test centre. You need to get a minimum passing grade of 86% (that is, answer 43 of the 50 questions correctly) to pass this test.
You get only 57 minutes to answer the 50 questions. So, you'll need to be well prepared in order to quickly run through and answer each question correctly.
After you complete the multiple-choice test, you'll be given a few minutes break, and then you have to do the hazard perception test.
Multiple choice theory test format
The motorcycle test is just like the driving theory test. You'll be using a computer and will have to select the relevant answer on a touchscreen.
Each question comes with four multiple-choice answers and you have to select the correct one. Some of the questions will come in the format of a case study. They give you a case study question with a scenario. Then, you will be required to answer up to 5 questions related to the situations within the case study.
The Motorcycle Hazard Perception Test.
This is the second part of the theory test. You will get 14 video clips which are approximately 1 minute in length each. You will then need to watch the clips and identify as many of the 15 potentially hazardous situations as possible.
If you pass both sections of the test, then you can go ahead and book an appointment for the motorcycle practical test.
What you need to know for the motorcycle theory test booking
You can book the motorcycle theory test online, by phone, or through the post. Before booking, you should have applied for and received your provisional licence.
Cost of the Motorcycle Theory Test: The motorcycle theory test currently costs £23. If you fail the test, you have to pay another £23 when booking a new theory test date.
Do you already have your provisional licence and are now planning to book the motorcycle theory test?
Did you study? If you said no, or that you studied a little bit, then you need to know why it's important to prepare properly for the motorcycle theory test.
Here are three reasons why preparing will help you ace the motorcycle theory test, even on your first try.
1. The current test is more difficult
Did you know that the pass rate has plummeted for learner drivers sitting the DVSA theory test?
In fact, according to the Daily Mail, in 2019, it was the lowest ever in over a decade.
The reason for this is that the Driver and Vehicle Standards Agency (DVSA) has increased the difficult level of the driving theory test. That means all the tests are now harder to pass, especially without proper preparation.
2. You'll have first-hand knowledge of what to expect
Do you know how to answer a hazard perception test question? What to look for to identify the hazards? If not, then you need to take a few practice tests. This allows you to see how the questions may be worded and what the video clips may look like.
Yes, you're told that DVSA gives you a sample question before the test starts. But can you learn how to answer a computerized moving video clip with just a couple practice questions before the actual test?
Therefore, it's important that when you start the test, it's not the first time you're seeing or attempting similar questions.
3. You learn as you study
The Highway Code is a comprehensive document on the topics that come on the test. The problem is that it's not easy to study the Code by itself and then be able to sit the test. For example, if you were to try a few of our motorcycle practice test questions right now, could you answer them all correctly?
So, even knowing the Code leaves you at a disadvantage when it comes to sitting the actual test. You need the Code along with high-quality motorcycle theory test practice questions and mock tests.
So, what do all these facts mean for you since you want to take the motorcycle theory test?
It means prepare well for your test, and make sure to use online theory practice tests. These tests are designed to take you from novice to fully prepped and ready to pass your motorcycle theory test.
"By failing to prepare, you are preparing to fail."
That's a well-known quote that sums up the results for more than 50% of the persons who take the UK theory test. They failed to prepare properly, and that meant they were in the high numbers of persons who failed the official test,
Step 1. Know what to expect on the test
The motorcycle theory test covers the regular 14 categories of the DVSA theory test. These include:
Alertness
Attitude
Documents
Hazard Awareness
Incidents, Accidents and Emergencies
Motorcycle Handling
Motorcycle Loading
Motorway Rules
Other Types of Vehicle
Road and Traffic Signs
Rules of the Road
Safety and Your Motorcycle
Safety Margins
Vulnerable Road Users
With this many motorcycle theory test categories, there are hundreds of possible questions that could be asked on the test. So, you need to have studied all the material and practised as many mock and simulation tests as possible before venturing to take the official theory test.
Step 2. Study and Use the Online Practice Questions
Easy Theory Online practice questions are designed to be similar to the real thing. The questions are phrased similarly and are all based on the Highway Code. So, you'll be in the perfect position to study even as you're practising.
With the practice test questions, you immediately know which questions you've answered incorrectly, and also get explanations of the correct answers. This gives you test practice while teaching and reminding you of the information in Step 1.
Step 3. Take the online Mock Theory Tests
Just like the practice questions, the motorcycle theory mock tests mimic the real thing. This means they are timed and so it's as if you're actually working under test conditions. Take as many mock tests as you like until you can consistently hit a minimum of:
43 out of 50 for the multiple-choice test, and
44 out of 75 on the hazard perception mock tests.
As a premium member of Easy Theory test, you have unlimited attempts at the mock tests for the period of your subscription. So, make use of them before your test date.
There's no way around it. To pass the motorcycle theory test, you need to put in the hours. To do well, you need to have prepared – especially by using our theory practice questions – so you know what to expect and how to answer the questions.
One of the common questions people ask is, does the motorcycle test have hazard perception?
The answer is yes. The DVSA has now included Motorcycle Hazard Perception Test a part of the DVSA theory test. Let's look at how the HPT works for people sitting the motorcycle theory test.
Format of the Motorcycle Hazard Perception Test
The motorcycle HPT is a 20-minute video-clip based test. You are shown 14 video clips in which there will be 15 potentially hazardous situations. That means one of the questions has at least 2 developing hazards displayed. Each video clip lasts approximately 60 seconds.
There is a maximum of 5 points available for each hazard you spot and click within the correct window. The number of points you get depends on when you click on the developing hazard. So, the secret to getting those full 5 points is clicking as soon as the potentially hazardous situation starts to develop. You can click multiple times on a video, just not in a pattern or too many clicks. If you miss the developing hazard, you get 0 points for that question/hazard.
Taking the motorcycle hazard perception test
At the test centre, you'll take the motorcycle hazard perception test after passing the motorcycle theory test. You'll be shown a short DVSA video about how the HPT test works before you start.
With 14 questions and 15 hazards, there are 75 points available on the test. The motorcycle hazard perception test pass mark is 44 out of 75.
Preparing for the motorcycle hazard perception test
Most people are shocked when they fail the hazard perception test. Even persons who claim to be experienced drivers and riders have failed this test. In fact, here is what one person had to say on the DVSA YouTube video about the hazard perception test:
"I just failed my test because of this. That's another 25 quid I have to fork out for a stupid test."
The test is a lot harder than most people believe. This is especially the case since it's a moving clip and you need to react within seconds of spotting the developing hazard to earn maximum points. If you aren't vigilant, you could end up with 0 points on your test questions.
You may think the test is stupid, but until you pass, you can't move to the next stage of getting your motorcycle licence. So, don't let this be you. Practice as often as you need to with our Premium access to motorcycle hazard perception questions, so you're more prepared than the thousands who fail each year.
Most people are familiar with the driving theory test. And even if you already have a driver's licence for a motorcar, you will still need to sit and pass the motorcycle theory and hazard perception test.
But even persons who have been driving for years and decide to get a motorcycle licence are shocked when they fail the motorcycle theory test. Because some of the multiple-choice questions are not the same, and the HPT is always more difficult to pass.
So, are you wondering if the motorcycle test is the same as the car test? Let's have a quick run-through of the key similarities and differences between the motorcycle theory and hazard perception tests and that of the driving/car theory test.
The overall format is the same
The theory tests for motorbikes and cars follow a similar format. They both have 2 sections to the test – multiple-choice and hazard perception. They have the same number of questions for each section and a similar timeframe to answer the questions in each section.
The differences between the driving theory test and the motorcycle theory test
The Highway Code:
The general information in the Highway Code is applicable to both tests. But motorbike riders are directed to also study The Official DVSA Guide to Riding while those going for a driving licence are asked to look at The Official DVSA Guide To Driving.
Age requirement:
If you're learning to ride a moped (50cc or less), you can take the test at 16. If it's a motorbike, you have to wait until age 17, similar to the car theory test.
The test questions:
There will be questions that are very specific to motorbikes versus cars. For example, on the motorbike theory test, you may be asked about:
Carrying luggage on your motorcycle
How to leave your motorcycle parked
Checking your motorbike before a long ride on a motorway
On the other hand, you'll only get questions about anti-lock brakes or driving a four-wheel vehicle on a driving theory test.
Are you ready for your motorcycle theory test?
So, why do you want to get a motorcycle licence? Perhaps you want to start a motorcycling career. Or you want to get a motorbike to commute to work. Whatever the need, you'll need to pass the motorcycle theory test.
And we make it easy for you to get ready for the motorcycle theory test. Join the Easy Theory Test premier membership and get access to specific motorbike questions so you can prepare for both the theory and the hazard perception tests.
Get ready to ride off to your practical exam. Choose the better online platform to study for your Motorcycle theory test. Easy Theory Test gives you all you need to be in the select number of people who pass the theory and hazard perception tests.
---
Try a Practice Test