700+ DVSA Revision Questions

Free
Practice Tests

Hazard Perception Test
Included

Unlimited
Mock Tests

100%
Pass Guarantee

Progress Tracker
& Results
Fulfilling your Motorcycle Riding Dream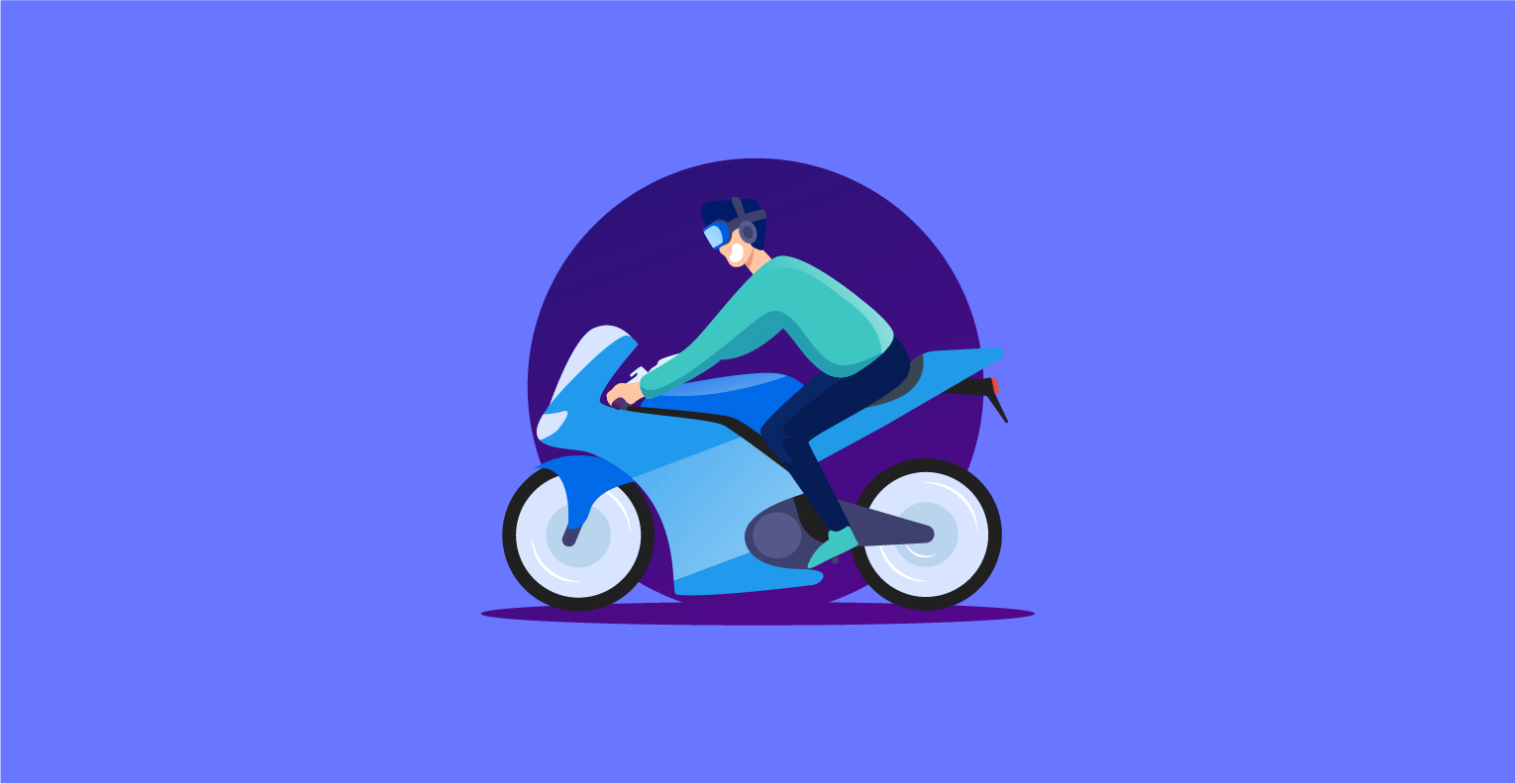 Do you wish to drive a motorcycle but need to pass a UK theory test? Don't you worry, our instant guide will help you fulfill your dream.
Motorcycle theory test questions based on the Highway Code
Practice exclusive theory tests for motorcyclists
Perfect for newbie riders, renewals, first-time test takers and resits
We're Making It Easier for You to Pass Your Motorcycle Theory Test
A motorcycle is an easy and fun mode of transportation. But before you can hop on and ride off, you need to pass the motorcycle theory test administered by the Driver and Vehicle Standards Agency (DVSA).
But passing a theory and hazard perception test can be a little bit challenging. Especially if you're a first-time test taker. You might also be apprehensive if you took the test before and failed.
---
Driving Theory Test is here to make the study process much simpler for this time around. Sign up to Premium to access all the test questions that can help you quickly learn the Highway Code and get you ready to ride over that test
Ride off into the Sunset with a Theory Test Pass
Figuratively, that is, since you still need to do the motorcycle road test. But you can always just just rush home to your family and shout yes, I passed my theory test. Here's how to get it done.
Download the Highway Code
It's available online as a PDF. Yes, it's long and difficult to study. But you can compare it to our free and premium theory practice tests, so you know you're getting the right info to help you learn.
Find Test Questions
Test away with our practice questions. You have unlimited attempts to keep learning until you get it right and can answer questions from any section of the Highway Code that may be on the real test.
Try a Mock Test (or Few)
The best way to test your readiness for the real motorcycle theory test is by trying to pass our mock tests. They are designed to be just like the real DVSA test with both the multiple-choice and HPT.
Sit the DVSA Test
Are you consistently meeting the pass marks on our simulation motorbike theory tests for both sections? Then you're ready to book online with the DVSA to sit the real thing and pass with riding colours.
Choosing an Online Motorbike Theory Test Site
Free motorcycle practice tests are not sufficient to get through all the material that the test will cover. So, choose the online platform with the right tools to help you study for and pass your theory test.
Studying the Easy Theory Way
Track Your Progress Effortlessly
Our Users Pass Their Moped & Motorcycle Theory Test. Here's Why.
They go prepared because our online practice quizzes get them ready. You too can pass on your first try if you study for the test using the Easy Theory Test practice questions.
UK-Specific Test Questions
Our motorcycle practise test questions are specific to the UK. They are based on the Highway Code which is what is used to set the questions for the DVSA theory test. So, we update our test questions whenever the Code is updated.
Premium Access to More Quizzes
You can access some of our practice quizzes for free. But, if you want the best chance of passing, you need to review the 700+ questions. Don't worry, it won't be that hard when you're studying them in our practice format.
Practice Tests Like the Real Thing
From individual questions to motorcycle mock theory tests, you get a direct look at what to expect when you sit the real test. Otherwise, you would end up like the over 50% of people who fail the test who did not know what to expect.
Accessible On The Go
This is not like school where you have to sit and work in one place. Our test questions are online, so you can access them from anywhere. Have a break at work, on the bus, relaxing? Jump on your phone and practice?
Better Study Process
The Highway Code isn't written in a way that makes it easy to study for a test. And even the DVSA tells you to take practice tests. But our platform also gives you the tools to track your progress so you can have a better outcome.
The Pass Strategy
The test has a high failure rate. To counteract this, we give you unlimited test attempts, performance analyses, options to track difficulty areas, and to view the explanation behind an answer immediately so can you study faster.
Frequently Asked Questions
FAQs
What is the Motorcycle Theory Test?
What to expect for the motorbike theory test?
How to study for the motorcycle theory test?
How to book the motorcycle theory test?
Motocycle Theory Articles
Articles
What is the motorcycle theory test & what does the motorcycle theory test consist of?
Why you need to prepare for the motorcycle theory test
How to Prepare for the Motorcycle Theory Test
Motorcycle Hazard Perception Test & the Motorcycle Theory Test
The main differences between the motorcycle theory test and a car theory test
Get ready to ride off to your practical exam. Choose the better online platform to study for your Motorcycle theory test. Easy Theory Test gives you all you need to be in the select number of people who pass the theory and hazard perception tests.
Try a Practice Test