700+ DVSA Revision Questions

Free
Practice Tests

Hazard Perception Test
Included

Unlimited
Mock Tests

100%
Pass Guarantee

Progress Tracker
& Results
Are you learning to drive?
*Upgrade to premium and unlock even more test questions
2023 PCV theory and hazard perception test questions
Bus theory test questions for first-time test takers and re-sits
Official test questions with instant feedback and explanations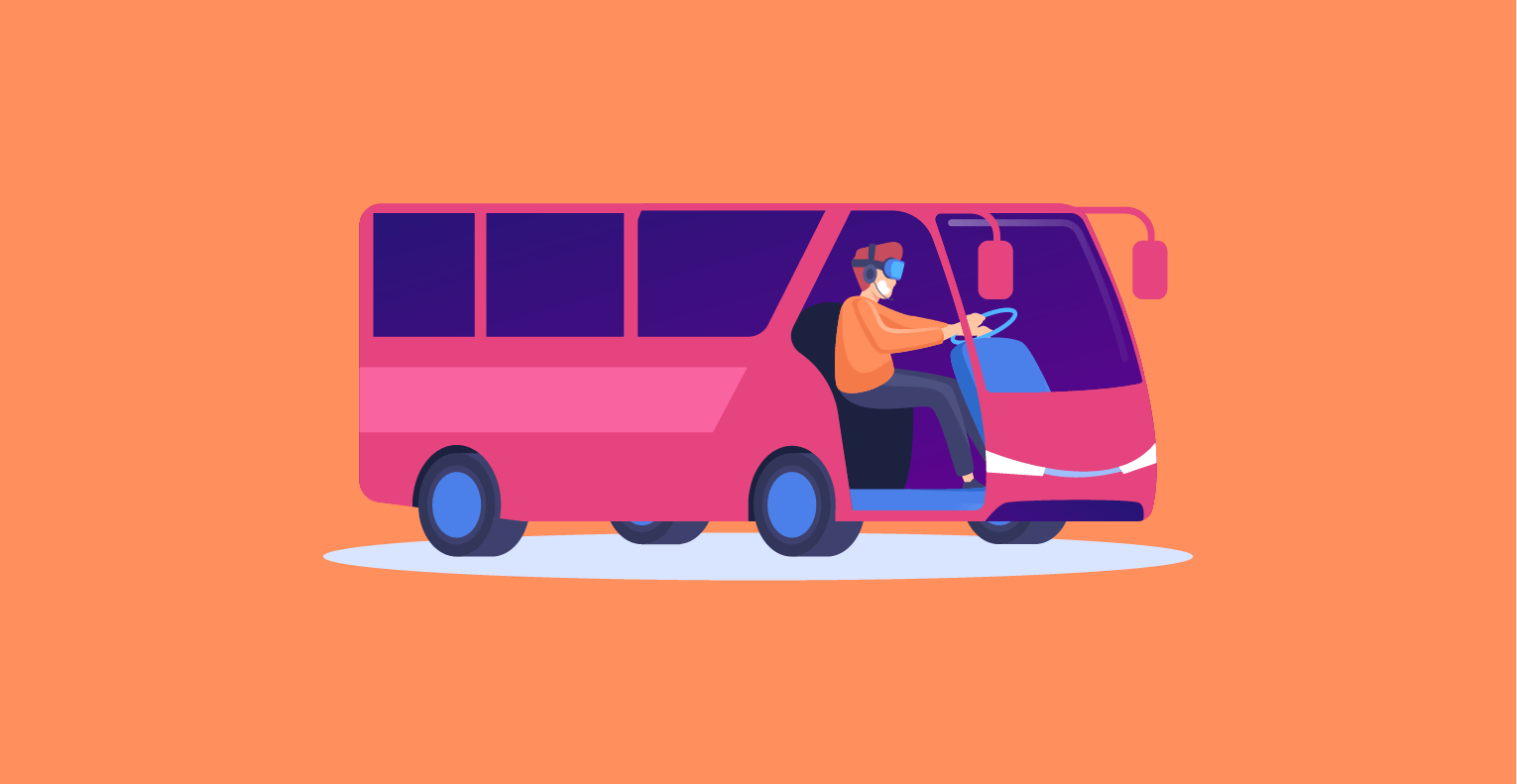 Become a Qualified Minibus, Coach, or Bus Driver
Ready for a new career as a coach, minibus, or bus driver? It all starts with passing your passenger carrying vehicle test. And Easy Theory Test gets you ready to pass the PCV Test on your first attempt.
We help you learn, practice, and prepare for the big day so that you can ace your theory test. Our many practice questions – that are just like the real thing – ensures that you are prepared fully for the PCV test.
---
Sign up for premium PCV tests and unlock hundreds of practice test questions, mock tests, and more licenced by the DVSA.
Increase your chances of passing the bus driver theory test
Here's what you need to do
Download the UK Highway Code
While reading the manual alone won't guarantee a PCV test pass, it does help to give you an outline of the type of information and topics you need to study for the test.
Use the Practice Theory Tests
Start off with the free PCV tests if you're not yet ready to upgrade. But, when you unlock the premium practice tests, you have a much better chance of preparing to pass.
Take the PCV Mock Tests
Try the simulation tests to check your readiness for the real thing. If you're not hitting at least the 85/100 for the multiple-choice tests, you need to keep practicing.
Sit the PCV Test
If you're doing well on the mock PCV tests, then it's time to book the real test. You already know what to expect, so go in there with the confidence to ace the PCV test.
We make it easy for you to pass the PCV Theory Test
Driving Theory Test is a premium practice test platform for all DVSA driving theory tests. Aspiring bus drivers get access to all our tools that make it easier for them to learn the PCV theory, practice theory and HPT test questions, and pass the official DVSA PCV test.
All PCV Test Categories
We've made it easier to track what topics you're studying by giving you test categories similar to the ones in the Highway Code. So, you can choose the better way for you to study – by categories, or just by sample tests. Either way, you get the test answers and explanations for each question as you practice.
Over 700+ DVSA PCV Questions
The PCV test is 100-multiple choice questions, but the DVSA has a bank of over 700 questions. So, any one of those questions could be on your test. To make sure you can go through all the topics and as many questions as possible, we give you access to our DVSA inspired bank of 700+ questions.
Unlimited Practice Attempts
With over 700 questions to go through, it just makes sense that you get unlimited practice attempts with your premium account. Take as long as you need to or binge study all the questions. It's all up to you. But you have unlimited attempts at each question and mock test.
The Smart Dashboard
Our intuitive, easy to use smart dashboard gives you a quick way to monitor your progress through the premium test content. See a snapshot of your progress or click through to check your performance reports or challenge bank of questions.
A Challenge Bank for Difficult Questions
Let us keep track of the challenging questions for you. Our Challenge Bank stores the questions you answer incorrectly so you can go back and tackle them on their own. This helps you study strategically because you know which areas you need to focus on.
Detailed Performance Analysis Reports
It's like the structure of studying in school but with the flexibility to study on your own. The Easy Theory Test performance analysis report give you your study data to help you improve. Track how well you've been preparing, your pass rate, and the difficult areas you need to improve.
The Winning Formula Behind the Easy PCV Practice Tests
From a host of features to multiple benefits, here are a few reasons why our bus theory tests help our users to pass the official test on their first try after studying through our platform.
UK Specific Questions
You won't find any generic or generalized PCV questions at Easy Theory Test. The PCV is a UK-based test, and our practice test questions are all based on the DVSA question bank and UK Highway Code.
Premium & Free PCV Tests
Test the waters with our free bus theory practice tests. Then, upgrade to premium and access even more practice test questions that are sure to put you in the best position to sit and pass your PCV test.
Just Like The Real Thing
Going into the bus driving theory test unprepared is a definite recipe for failure. So, our PCV test questions are designed to be just like the real thing to give you a distinct advantage on test day.
Very Accessible On The Go
Prepare anytime, anywhere with our very accessible platform. You can learn on the go and study at your convenience. Once you have a smart device and internet connection, you can log in and study.
Smarter Study System
This is not a test that you can just turn up and pass. So, you need to have a plan. Our platform design allows you to make a study plan unique to you from categories to mock tests and challenge questions.
The Study Success Plan
We give you every chance to keep improving your knowledge and test skills. From immediate results, questions with explanations, gamified experience, you get the best chance to prepare to pass the PCV test.
PCV Frequently Asked Questions
FAQs
Also known as the bus theory test, the PCV is the DVSA test for aspiring bus, coach, and minibus drivers.
There are 4 categories of licences for the PCV.
Minibuses with or without Trailers
Category D1: With a minimum age requirement of 21 years, this category covers vehicles that seat between 9-16 passengers with or without a trailer weighing no more than 750kg.
Category D1+E: With a minimum age requirement of 21 years, this category covers vehicles that seat between 9-16 passengers (D1) with a trailer over 750kg but no more than 12,000kg.
Buses with or without trailers
Category D: With a minimum age requirement of 24 years, this category covers vehicles with more than 8 passenger seats with a trailer up to 750kg.
Category D+E: With a minimum age requirement of 24 years, this category covers vehicles with more than 8 passenger seats (category D) but with a trailer that's over 750kg.
There are exceptions to the age requirements for all four categories which you can find out more about here.
Like the LGV test, PCV drivers must also sit and pass the Driver CPC (Certificate of Professional Competence) case studies test. The Driver CPC encourages high driving standards for large goods vehicles and passenger carrying vehicles.
Like the other driving theory tests, the PCV test comes in 2 parts – a multiple choice test and the hazard perception test. You can choose to do both on the same day, or on separate days.
The multiple-choice theory test has 100 questions which you have 115 minutes to answer. You need to get a minimum of 85 right to pass.
The PCV hazard perception test has 19 video clips to be answered in 25 minutes. The pass mark is 67 out of 100.
The PCV theory test has a high failure rate and we don't want you in that statistic. So, we recommend that you use as many practice tests as possible as part of your preparation.
You can download the UK Highway Code as well as the PCV theory test revision questions and answers booklet at the DVSA publishing partner. But, reading the questions alone won't get you ready to take the computerized test.
So, that's where the online practice tests come in. They allow you to test your knowledge and preparedness even as you continue learning. So, go through all the Easy Theory practice tests online. You have unlimited attempts plus the Challenge Bank.
You must book the multiple-choice (CPC part 1 theory test) separately from the hazard perception test. But, you can choose to take them on the same day or different days. The current cost of the PCV test is £37. The multiple-choice theory test is £26 and the PCV HPT is £11.
You can book the test online at gov.uk/book-theory-test. Or, you can call in and book over the phone.
PCV Theory Articles
Articles
You're ready to take on a new career as a driver for passenger carrying vehicles. And the first hurdle for you to cross is passing your PCV theory test. Let's run through a quick list of the things you need to know for getting your PCV licence.
1. Types of bus licence
There are 2 driving licence categories each for buses and minibuses. Each category specifies the number of passengers you're licenced to carry and the size of any trailer that you may tow. For minibuses, the categories are D1 and D1+E relating to minibuses with no more than 16 persons, and towing trailers of 750kg.
Categories D and D+E are for buses with more than 8 passengers and to tow a trailer of up to 750kg and over 750kg, respectively.
2. PCV theory test questions and answers
The nature of the vehicle you will be driving warrants more questions than the regular car driving theory test. So, you can expect to answer 100 multiple choice questions in an hour and 55 minutes. Your pass rate is 85%.
3. PCV hazard perception test
If you're sitting PCV theory test, there are 19 HPT videos in total, and you need a pass mark of 67%.
4. The Driver CPC (Certificate of Professional Competence) Test
The CPC is for encouraging high standards amongst drivers of large vehicles. It is a test done throughout Europe as well as the UK. As a PCV driver, you will need to get this certification.
5. Online PCV practice tests
While knowing the general Highway Code and other supplemental PCV training material is good, nothing beats practising with questions that are just like those on the real test. At Easy Theory Test, we have mock exams that are designed for the PCV test (110 questions for multiple-choice, 19 questions in the HPT) so you can prepare properly for the big day.
6. The show me tell me questions
Once you've finished your PCV theory test (and passed), it's time to prepare for the practical driving exam. As part of that test, you must be prepared to answer a series of ' show me tell me questions'. What this means is the examiner will ask you a few questions, and you have to show him what you would do or where something is located. So, depending on the licence category, you will be asked questions related to the following during the test:
lorries, buses, and coaches
lorries, buses, and coaches towing trailers
Once you have gone through all of these, you're in a better position for your PCV driving theory test.
To prepare for the PCV driving theory test, you should gather the official learning materials published by the Driver and Vehicle Standards Agency (DVSA). The two materials for drivers of large vehicles (including buses and coaches) are the Highway Code and The Official Theory Test for Drivers of Large Vehicles. Both are available as books or downloads.
The Highway Code and study material for drivers of large vehicles provide revision questions and answers. And especially the Highway Code will give you general information on using the roads in the UK. But, on a driving theory test, you will be presented with case studies for you to interpret the application of the rules outlined in the Highway Code.
So, to pass the test, you need to be able to apply the knowledge you learn in the Code to practical examples of where that knowledge would come into effect.
Many of the questions are presented in a case study format. This means a scenario is presented about a specific situation. You are then asked several questions related to that scenario.
The bus theory test questions and answers
The DVSA directs you to two free theory tests for bus and coach drivers on their Safe Driving for Life website. But the site only offers 50-question tests even though it tells you that the actual PCV test will have 100 questions. And there are only 2 sample tests. So, get a premium account for an online practice site so you can access even more questions.
The types of questions
PCV theory test questions are very specific to the licence type. So, for example, you can expect to see questions like the following:
Q. Why may coaches be subject to a search by immigration authorities at international ports?
Choose One:
-For national security
-To check for red diesel
-For tachograph regulations
-To check the vehicle condition
Q. High-sided vehicles can be affected by side wind. On which type of road is this most likely?
Choose One:
-Narrow country lanes
-Open roads
-Slip roads
-Motorway underpasses
These are two example questions from the Safe Driving for Life website. Driving Theory Test has similar questions and many more all directly related to passing a passenger carrying vehicle test. Plus, we also provide more mock tests and a host of practice test questions and answers to get you ready for the PCV.
Try our Free PCV Highway Code practice tests for bus and coach drivers. Then upgrade to premium and get full access to all the features of the Easy Theory Test platform.
Given that you will be responsible for the lives of passengers in your vehicle as well as other users of the road, the PCV theory test is a little bit more difficult than the regular driving or motorcycle theory tests.
Here are a few reasons why you need to put out extra effort in preparing for the PCV theory test.
You have more questions to answer
Part 1a and 1b of the driving theory test is longer.
As an aspiring PCV driver who has already gotten their car or bike driving licence, you will remember doing 50 multiple-choice questions. The PCV test is double that amount. The car theory test has 14 hazard perception video clips which must be done immediately after the multiple-choice question. The PCV test carries 19 HPT clips, and you can choose to do them another day if answering the 100 multiple-choice questions wore you out.
The questions will differ
Now some of the questions for the bus theory test will be different from a car theory test. So, don't believe that because you passed the car theory test means you will easily pass the PCV theory test.
There are additional study materials
For the PCV test, there are three recommended study guides to help you prepare to pass. These are the:
The Official Highway Code
The Official DVSA Guide to Driving Buses and Coaches, and
Know Your Traffic Signs.
When you can answer all the information in these resource materials in the online practice tests you signed up for, then you will be ready for the DVSA test.
So, is the PCV theory test hard?
And how can you prepare to pass?
Well, the answer is simple – it depends.
It depends on the type of platform you sign up for to access practice questions and answers.
It depends on the revision tools you use and how well you learn to apply the knowledge gained.
It depends on how much practise you put into your studying of the test prep material.
Once you cover all your bases, it doesn't matter if the PCV test is hard. What matters is that you will be well prepared to tackle the official test and pass.
With a comprehensive resource for studying and training, Driving Theory Test increases your odds of passing the UK PCV theory test. Plus, our Blog offers you tips and tricks to prepare for test success and general knowledge about driving on the UK road network.
Before you can take on the practical driving aspect of being a bus or coach driver, you need to pass the PCV theory test. Here's a quick guide on how to do just that, even if it's your first time sitting the theory test.
Use the Highway Code
Failure to comply with the rules and regulations outlined in the Highway Code can lead to hefty fines, penalty points on your licence, or even disqualification from driving/suspension of your licence. If that happens, your career can be on the line.
So, make sure to study the Highway Code as part of your process for passing the PCV theory test.
Know your traffic signs
Especially the signs that relate to large vehicles. And there are many road signs to learn. So, start reviewing the road signs and what they mean for you as a PCV driver. The Highway Code has a section dedicated to just signs. And most online platforms have test questions and answer sections on road signs for PCV drivers.
Study the DVSA Essential Skills
These essential skills books provide information on safe and defensive driving. The Essential Skills books also offer bite-size information to make it easier for studying as it prepares you to get ready for test day.
Get a premium account on a PCV theory test platform
PCV theory test apps are great. But like most apps, there are certain limitations that can affect how well-prepared you are for the actual test. So, make sure to get on a PCV theory test online platform that supplies everything you need to prepare properly for the PCV theory test.
Make sure the platform offers both multiple-choice questions, and Hazard Perception CGI practice clips. This ensures you have all the necessary test questions to help you prepare the right way for the theory test – and Easy Theory Test is here to help you with access to both types of questions.
Practise, practise, practise
It goes without saying that you have to put in the work to reap the rewards. With an 85% PCV theory test pass mark for multiple-choice questions and 67% for HPT, you have to be very careful if you want to be in the less than 50% of people who pass.
This guide on how to pass your PCV theory test is geared at getting you prepared for test day. Following these suggestions and our top 5 tips will get you test-ready and significantly increase your chances of passing the PCV theory test.
The PCV driving theory test is not just another hurdle to pass to get a full UK driving licence. It's a way to help you understand the rules of the road so that you and the other drivers you encounter can navigate the roads safely.
So, that's why it's a requirement that you must pass the Driving Theory Test before you can book your practical driving test.
Here are 5 tips to help you get ready to pass.
1. Review the Highway Code
We recommend a combination of the digital highway code manual as well as online practise questions to help the revision process. You also need the supplemental information provided for persons seeking to drive passenger carrying vehicles. Revision of each material is important if you want to retain the information necessary to pass the test.
2. Sign up to a practice test site
There are a lot of theory test websites available. Not all are equal, but you can give the free practice questions a run before buckling down with the premium version.
If you're serious about passing your PCV driving theory test, we recommend getting a premium account as soon as possible.
3. Practice as much as you can
Practise is essential. But don't try to do too much at once. Set aside a reasonable amount of time each day to go over the practice test material. This can be during your commute to work, during your work break hours, or a specific time when you get home. Developing a routine for practice is a good way to stay motivated and to put in the work.
4. Use up the PCV mock exams
A website with practice theory questions often has mock exams. Instead of constantly answering random questions, the mock test is timed and carries a similar number of questions as the actual test.
When you can go through all the mock tests and get a passing grade, you may be ready to sit the real theory test.
5. Wait to book your test
Don't rush to book your DVSA theory test until you've passed your PCV mock exams and can correctly answer all the PCV questions in your challenge bank.
The DVSA theory test comes at a cost, and if you miss the test date, you'll have to pay again. Plus, if you fail, you will need to do a resit, which requires another payment.
So, it's always best to get as prepared as possible before you contact the DVSA to book your PCV theory test.
Study, practice, and revise so you have the best chance of passing the passenger carrying vehicle theory and hazard perception tests. You'll be so happy you did as you unlock a new career path as a coach or bus driver.
---
Unlock All PCV Tests