700+ DVSA Revision Questions

Free
Practice Tests

Hazard Perception Test
Included

Unlimited
Mock Tests

100%
Pass Guarantee

Progress Tracker
& Results
Are you learning to drive?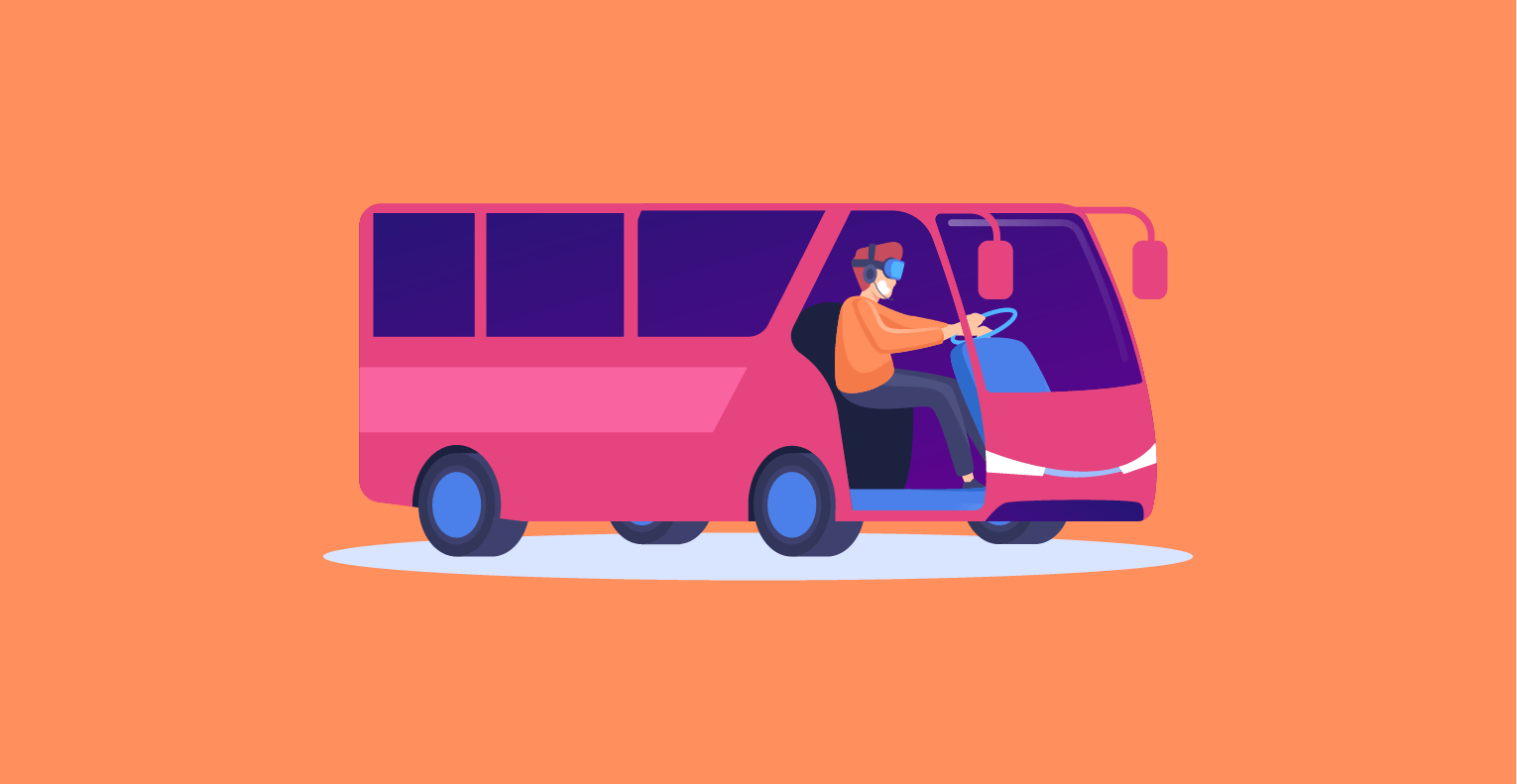 *Upgrade to premium and unlock even more test questions
2022 PCV theory and hazard perception test questions
Bus theory test questions for first-time test takers and re-sits
Official test questions with instant feedback and explanations
Become a Qualified Minibus, Coach, or Bus Driver
Ready for a new career as a coach, minibus, or bus driver? It all starts with passing your passenger carrying vehicle test. And Easy Theory Test gets you ready to pass the PCV Test on your first attempt.
We help you learn, practice, and prepare for the big day so that you can ace your theory test. Our many practice questions – that are just like the real thing – ensures that you are prepared fully for the PCV test.
---
Sign up for premium PCV tests and unlock hundreds of practice test questions, mock tests, and more licenced by the DVSA.
Increase your chances of passing the bus driver theory test
Here's what you need to do
Download the UK Highway Code
While reading the manual alone won't guarantee a PCV test pass, it does help to give you an outline of the type of information and topics you need to study for the test.
Use the PCV Practice Tests
Start off with the free PCV tests if you're not yet ready to upgrade. But, when you unlock the premium practice tests, you have a much better chance of preparing to pass.
Take the PCV Mock Tests
Try the simulation tests to check your readiness for the real thing. If you're not hitting at least the 85/100 for the multiple-choice tests, you need to keep practicing.
Sit the PCV Test
If you're doing well on the mock PCV tests, then it's time to book the real test. You already know what to expect, so go in there with the confidence to ace the PCV test.
We make it easy for you to pass the PCV Theory Test
Driving Theory Test is a premium practice test platform for all DVSA driving theory tests. Aspiring bus drivers get access to all our tools that make it easier for them to learn the PCV theory, practice theory and HPT test questions, and pass the official DVSA PCV test.
The Faster Way to Get Ready for the Bus Theory Test
Not Just Another PCV Practice Test Site
The Winning Formula Behind the Easy PCV Practice Tests
From a host of features to multiple benefits, here are a few reasons why our bus theory tests help our users to pass the official test on their first try after studying through our platform.
UK Specific Questions
You won't find any generic or generalized PCV questions at Easy Theory Test. The PCV is a UK-based test, and our practice test questions are all based on the DVSA question bank and UK Highway Code.
Premium & Free PCV Tests
Test the waters with our free bus theory practice tests. Then, upgrade to premium and access even more practice test questions that are sure to put you in the best position to sit and pass your PCV test.
Just Like The Real Thing
Going into the bus driving theory test unprepared is a definite recipe for failure. So, our PCV test questions are designed to be just like the real thing to give you a distinct advantage on test day.
Very Accessible On The Go
Prepare anytime, anywhere with our very accessible platform. You can learn on the go and study at your convenience. Once you have a smart device and internet connection, you can log in and study.
Smarter Study System
This is not a test that you can just turn up and pass. So, you need to have a plan. Our platform design allows you to make a study plan unique to you from categories to mock tests and challenge questions.
The Study Success Plan
We give you every chance to keep improving your knowledge and test skills. From immediate results, questions with explanations, gamified experience, you get the best chance to prepare to pass the PCV test.
PCV Frequently Asked Questions
FAQs
What is the PCV theory test?
What should I expect on the PCV Test?
What's the best way to prepare for the PCV Test?
How to book PCV theory test?
PCV Theory Articles
Articles
Theory Test for PCV Drivers – What You Need to Know
Highway Code for PCV Drivers
Is the PCV Theory Test Hard?
How to Pass the PCV Theory Test
Top 5 Tips to Study & Pass Your PCV Driving Theory Test Your First Time
Study, practice, and revise so you have the best chance of passing the passenger carrying vehicle theory and hazard perception tests. You'll be so happy you did as you unlock a new career path as a coach or bus driver.
Unlock All PCV Tests